DBS Live Fresh Card – MoneySmart Review 2018
Until quite recently, I never had any sort of impression of DBS and POSB credit cards. I always associated Singapore's go-to bank with mundane, workaday cards like the POSB Everyday Card – the basic bro of credit cards.
I guess I'm not the only one who feels that way, because DBS has pumped in a lot of money and effort in glamming up its offerings. The DBS Live Fresh Card, for example, had a big makeover last year with sneaker artist Mr SBTG in a pretty damn unsubtle play for the millennial crowd.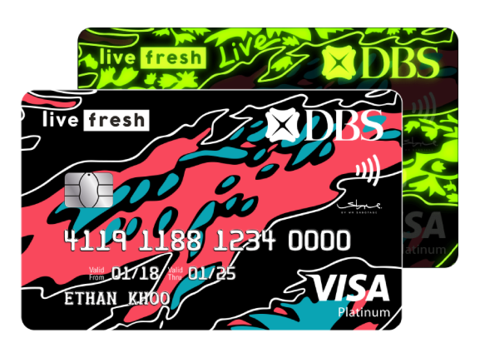 ---
Card Benefits
5% cashback on online shopping and when you pay using Visa payWave, Apple Pay, Samsung Pay or Android Pay through your Card
Additional 5% cashback for the first 6 months with S$600/month min. spend when signing up within 8 Jan - 31 Mar 2018, Cashback cap at S$60/month
Lazada: 20% off storewide for new shoppers with 'DBS2017'; Valid till 31 Dec 2018
Expedia: 20% off eligible hotel bookings with 'DBS10EXP' at checkout; Valid till 31 Jan 2019, and travel till 30 Apr 2019
Base rate: 0.3% on all other spend
Pros and cons of the DBS Live Fresh Card
Pros
Cons

Sign-up bonus of $100 cashback (new to DBS) or $50 cashback (existing DBS cardholders) until 31 Mar 2018.

For online applications only. Must spend at least $500 in the first month.

5% cashback on online spending and offline contactless payment.

Cashback is capped at $60 a month.

Extra 5% cashback for the first 6 months, i.e. total 10% cashback. Promotion ends 31 Mar 2018.

Minimum spend $600 a month. Otherwise, cashback drops to 0.3%

Register by 31 Mar 2018 to win customised Nike Air Force 1 sneakers or G-Shock watch by SBTG. You get 1 draw chance per $50 spent.

Max 1,000 winners.

Entry-level minimum income requirement of $30,000 a year.

Annual fee waived for one year.

Annual fee of

$128.40.
The credit card for connected young Singaporeans
The DBS Live Fresh Card is perfect for those who rely on the internet to get stuff done. It's not just for online shopping, but also extends to travel bookings, food delivery, ordering groceries online, buying movie and concert tickets, and pretty much anything else you can think of.
Offline spending is covered too. You get 5% + 5% with contactless payment, either with Visa payWave or with your phone. So it's also for people who shop at mainstream shops, eateries and supermarkets.
In short, it's for the average single Singaporean in their 20s or early 30s with a monthly expenditure of $600 to $1,000.
The card's major drawbacks are its minimum spend and cashback cap. They're not unreasonable, but you do have to keep track of your expenditure. Luckily, that's easy as DBS's mobile banking app is pretty easy to use.
But it's not the only card around for millennials….
The difficult thing about capturing the hearts of young Singaporeans is how fickle we are. All it takes for a Grab rider to switch to Uber is a well-placed promo code. These days, Singapore's virtual telcos are fighting over millennial dollars as well.
Same goes for credit cards. DBS Live Fresh has some serious competition. Let's see how it stacks up against the other cards:
UOB YOLO Card – Another credit card obviously targeting the same demographic as the DBS Live Fresh Card, the UOB YOLO Card also has a super-generous 8% + 8% cashback offer. But it's for weekend dining and entertainment instead of online spending.
CIMB Visa Signature Card – I never gave CIMB much thought until I came across this credit card. It gives you a an amazing 10% cashback on foreign currency online spending AND on dining and nightlife. The drawbacks are its horribly tedious minimum spend requirement, and the cashback cap which is so easy to burst with a high rebate like that.
UOB Preferred Platinum Visa Card – Although this is a rewards credit card, I think it's a viable alternative to the DBS Live Fresh Card for someone with the same spending profile. You get 10X rewards ($1 = 4 miles) for most online spend (not travel or services though) and contactless payment too, up to $1,000 a month. Best of all, there's no minimum spend!
For young people who go out a lot, the UOB YOLO Card and CIMB Visa Signature are a lot more versatile offline. You won't have to patronise only outlets with Visa payWave. That means you can go to all the indie cafes and dive bars you want.
But if you want a credit card for online spending, I think the UOB Preferred Platinum Visa Card is a near-perfect alternative to the DBS Live Fresh. Sure, you earn rewards instead of cashback, but which millennial would turn down air miles, right?
DBS Live Fresh Card minimum income
Singaporeans & PRs: $30,000
Foreigners: $45,000
DBS Live Fresh Card annual fee
$128.40 (waived for first year)
Related articles:
Best POSB / DBS Credit Cards in Singapore – Credit Card Reviews 2018
The Best Cashback Credit Cards in Singapore 2018
Cashback vs Air Miles vs Rewards – Which credit card is best for you?
Keep updated with all the news!
Get the latest personal finance tips and tricks delivered to your inbox!
We promise never to spam you!
Tags: Credit Cards, Shopping