The Best Credit Cards in Singapore for Online Shopping 2018
Yes, yes, online shopping is evil and causing Singapore's retail industry a painful death. But we aren't going to stop shopping online, are we?
There's zero chance of me spending precious weekend time taking the MRT to town (hell no – I already do that 5x a week and it's not my idea of fun) and combing through a dozen stores to find the exact Hello Kitty mahjong set I want. Not when it's one click away on Qoo10.
So if we're going to keep up with the online shopping, we owe it to ourselves to get nice fat cash rebates.
| | | | |
| --- | --- | --- | --- |
| Credit card | Online shopping rebate | Monthly minimum spend | Monthly cashback cap |
| CIMB Visa Signature Card | 10% cashback | $600 | $50 for online category ($100 total) |
| BOC Zaobao Credit Card (UnionPay) | 10% cashback | $600 | $80 |
| OCBC FRANK Credit Card | 6% cashback | $400 offline | $60 |
| BOC Family Card | 5% cashback | $700 | $30 for online category ($100 total) |
| DBS Live Fresh Card | 5% cashback | $600 | $20 for online category ($60 total) |
| Citi SMRT Card | 2.7% to 3% cashback | No min. spend | None but capped at $600 per year |
| Standard Chartered Spree Credit Card | 2% cashback (local) / 3% cashback (foreign currency) | No min. spend | $60 |
| BOC Qoo10 World Mastercard | 15% Qmoney rebate for Qoo10 spend (until 31 Dec) / 5% Qmoney rebate for all other online spend | $600 | $40 (Qoo10 spend) + $40 (other online spending) |
CIMB Visa Signature Card
The CIMB Visa Signature credit card gives you 10% cashback on online spending. And there's no annual fee. Need I say more!?
In fact, CIMB used to offer its generous rebate only on foreign currency online transactions only, but as of 23 Nov 2018, it's extended to local online spending too. Woohoo! Lazada, here I come!
With the new changes, however, it's less worthwhile to use this card on foreign currency spending. Instead of the super-low 1% it used to offer, CIMB has bumped the foreign currency transaction fee up to 3%. This means your nett rebate is only 7%. Still decent, but not as high as before.
The best change that CIMB has put in place is a revision of their complicated minimum spending requirement. No need to micromanage your spending now: You just need to hit the minimum spend of $600 a month.
Online shopping cashback is capped at $50 a month. However, if you buy groceries online e.g. through RedMart or Honestbee, that falls under their Groceries category, which has a totally different cap (also $50). In total, the maximum cashback you can get from CIMB each month is $100.
BOC Zaobao Credit Card
Another one in the 10% cashback category is the BOC Zaobao Credit Card, but note that since it's a UnionPay card it won't be accepted by that many websites.
But, if you like to buy stuff from Chinese websites, this card is for you. On top of the cashback, currency exchange fees for payment in renminbi are completely waived. Oh, and there are no annual fees for 2 years, so we don't see any harm in signing up.
The minimum spend of $600 may be more challenging to meet since it's a UnionPay card. However, if you do, the cashback cap of $80 is pretty decent.
OCBC FRANK Credit Card
---
Card Benefits
6% rebate on online shopping
3% rebate on first 2 top-ups for NETS FlashPay ATU
0.3% rebate on everything else
Up to 5% rebate for entertainment
Min. spend $400 (excluding Online and NETS FlashPay Auto Top-Up spend), capped at $60 for all rebates
The highest online shopping cashback card for OCBC is the FRANK Credit Card, which offers 6% cashback on all eligible online spends, which include popular purchases like flight tickets and hotel bookings, plus Grab rides.
That said, the minimum spend is quite high for an entry level card – you will need to spend $400 on offline purchases. Assuming you spend about $300 on online shopping, that's a total of $700. The cashback cap is $60, which means you should swipe no more than $1,000 for online purchases (so don't buy your Europe air tickets with it).
BOC Family Card
The BOC Family Card's rebate of 5% on online spending is considered low given the 10% cashback cards out there, but where it shines is its versatility. It also gives 5% to 10% cashback on stuff like dining, movies, telco bills, groceries and pharmacies.
There's a minimum spend of $700 a month, but given the multitude of cashback categories, it's practical to consolidate your spending on this card.
Cashback is capped at $30 for the online shopping category, meaning you can only spend up to $600 online. In total, there's a cap of $100 rebates each month, which includes all the categories.
DBS Live Fresh Card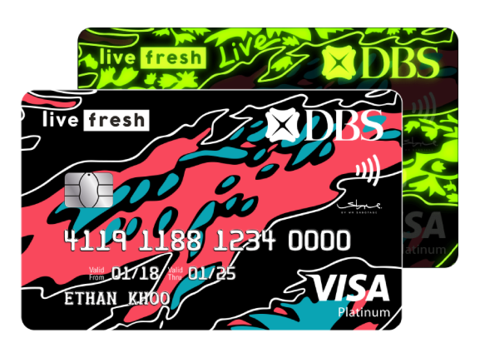 ---
Card Benefits
5% cashback when you shop online
Additional 5% cashback for the first 6 months with S$600/month min. spend; Cashback cap at S$60/month
Sign up within 8 Jan - 31 Mar 2018
The DBS Live Fresh Card recently had a 5+5% cashback promotion until 31 Mar 2018, and when that was running, it was quite easily one of the best cards on the market. However, now that it's over, the card has moved down a few ranks.
The cashback rate is now 5%, with a minimum spend of $600. What's more, the cashback cap has been lowered to $20 for online shopping (it used to be $60 for all categories).
Citibank SMRT Card
---
Card Benefits
Up to 5% savings on Fast Food, Movies, Coffee, Toys, and Books. 4.7% + 0.3% (If monthly card spend is at least $300)
Up to 3% savings on Online Shopping*. 2.7% + 0.3% (if monthly card spend is at least $300)
Up to 2% savings on Health & Beauty. 1.7% + 0.3% (If monthly card spend is at least $300)
Movies - Cathay Cineplexes, Filmgarde, Golden Village, Shaw Theatres only
Toys & Books - POPULAR Bookstores, Toys'R'Us
Health & Beauty - GNC, Guardian, Nature's Farm, NTUC Unity Healthcare, Watson's
*Excludes all travel-related merchants worldwide - Airlines, Air Carriers, Car Rental Agencies, Lodging, Travel Agencies & Tour Operators, Passenger Railways, Taxicabs & Limousines, Bus Lines, Steamship & Cruise Lines and Other Transportation Services, Direct Marketing Travel-Related Arrangement Services
Savings awarded in SMRT$, capped at 600 SMRT$ every 12 month period
If you thought the Citi SMRT Card is just for your daily commute, you're wrong! It's got a decent online cashback of 2.7% with no minimum spend. If you spend above $300, it's an additional 0.3% to make it 3%. It's not exactly cashback in that you actually earn SMRT$, but you can just convert it to cash rebates at no extra cost – it's just an added step.
The rebate is capped at 600 SMRT$ per year, which averages out to $50 per month. Because it's capped on a yearly basis, you can just earn whatever you can first and once you reach the cap, use another card.
Standard Chartered Spree Credit Card
Standard Chartered Spree Credit Card
---
Card Benefits
3% cashback on all online spends in foreign currency
2% cashback on all online spends in local currency, contactless and mobile payments
20% off vPost shipping fees for air shipments to Singapore, capped at $1250 per shipment
Online Price Guarantee: refund of 50% of the price difference if you find a lower price for the same item within 30 days of your online purchase*
Once regarded as the best credit card for online shopping with a generous 7% rebate, the Standard Chartered Spree card has fallen from grace.
That's most because its rebates have taken a nosedive as well, now standing at 2% for local online spending and 3% for foreign currency (barely enough to break even after transaction fees).
However, this is the one of the few cards that will give you a rebate with no minimum spend, so occasional shoppers might want to get this.
BOC Qoo10 World Mastercard
Alright, so the two BOC Qoo10 Mastercards are not exactly cashback or rewards cards, and only offer bonus rebates in the form of… Qoo10 credits. That's quite restrictive, but if you shop on Qoo10 anyway, the perks are decent.
If you only spend $300 to $599 on your BOC Qoo10 World Mastercard, then it's not quite worth it – you only enjoy 3% rebate on your Qoo10 spend, capped at $40 in Qoo10 credits.
In contrast, when you spend above $600, all online shopping will earn you 5% rebate, and an extra 5% if it was spent on Qoo10. From now until 31 Dec 2018, there is even a special 15% rebate on Qoo10 spend, which is honestly quite impressive. The rebate caps remain the same at $40 (Qoo10 spend) & $40 (other online spend).
If you're a tertiary student or fresh grad and find the requirements are hard for you to reach, there's a lower tier BOC Qoo10 Platinum Mastercard. The minimum spend is just $200, you'll be entitled to rebates of 3% on Qoo10 and other online spends. Qoo10 credit rebates are capped at $10 (Qoo10 spend) & $20 (other online spend).
Best rewards credit cards for online shopping
If you're not particularly motivated by cash rebates and want to earn air miles or other rewards instead, you're in luck because banks really, REALLY want you to use their card when you shop online. That means "10X rewards" for online spending is now common practice among rewards credit cards. Since that's equivalent to 4 air miles per dollar, you can just as easily earn miles on a rewards credit card as an actual air miles card. In fact, it might actually be faster.
The DBS Woman's World Card has the best rewards system of 10X rewards ($1 = 4 miles), but you'll need to earn $80,000 a year. Can't qualify for the DBS Woman's World Card? It's OK, there's the UOB Preferred Platinum Visa card with a much lower salary requirement of $30,000. You can get the same 10X rewards on online shopping as well as groceries, food delivery and entertainment – not quite EVERYTHING, but enough to account for the majority of most people's online spending. Citibank offers something similar with the Citi Rewards Card, but it's more for fashion-related online shopping.
If expenditure caps have got you down, try the HSBC Revolution Credit Card, which offers 5X rewards (2 miles per dollar). Although the rewards aren't that impressive, we've a soft spot for this baby because in addition to not having any minimum spend, it also has absolutely no cap. So, technically you can earn unlimited rewards on all your online shopping. Read more about these cards and more of the best rewards credit cards for online shopping here.
Did we miss out your favourite online shopping credit card? Tell us in the comments!
Related articles:
Amazon vs Lazada vs Wish: Which Online Shopping Site is Best for Singapore?
14 Awesome Online Shopping Sites That Offer Free Shipping to Singapore
3 Additional Costs of Shopping Online Which Many Singaporeans Forget About
Keep updated with all the news!
Get the latest personal finance tips and tricks delivered to your inbox!
We promise never to spam you!
Tags: Credit Cards, Featured, NLW1746P05, Shopping