The Best Rewards Credit Cards in Singapore 2018
Whether you realise it or not, you probably already have a ton of rewards points floating around in the ether, just waiting for you to notice their existence and cash them in.
Because in Singapore, we <3 rewards points.
Think about it. Subscribing to newspapers gives you SPH Rewards points. Shopping at 7-11 gives you 7-Rewards points.  Taking part in the National Steps Challenge gives you Healthpoints. Heck, even taking the MRT gives you Travel Smart Rewards points.
Even the most tech-illiterate of Singaporean aunties know their way around rewards points. They're practically in our DNA.
So it's hardly surprising that rewards credit cards are one of the most popular type of credit cards in Singapore. We're here to tell you which rewards cards are the most legit.
Credit card
Bonus rewards
Notes

DBS Woman's World Card

10X on all online spend

3X on overseas spend

Online spend capped at $2,000

Min. income $80,000 p.a.

UOB Preferred Platinum Visa Card

10X on online shopping, food, entertainment + contactless payment

Capped at $1,000

UOB Visa Signature Card

10X on foreign currency spend (online & offline), petrol, contactless payment

Capped at $2,000

Min. income $50,000 p.a.

Min. spend $1,000 a month

Citi Rewards Card

10X on shoes, bags, clothes (online & offline)

20X at DFS, Takashimaya and Tangs until 3 May 2018

Capped at $2,000

10X rewards does not apply to non-fashion spend

OCBC Titanium Rewards Card

10X on fashion, dept stores, electronics, kids wear (online & offline)

Capped at $12,000 a year

HSBC Revolution Credit Card

5X on online spend, dining, entertainment

No cap

American Express Rewards Card

21,000 welcome points with first $1,500 spend

2X in first 3 months

1.5X at 5 Favourite Places

1.5X with $5,000 annual spend

Expenditure cap of $5,000 for Favourite Places

Standard Chartered Platinum Visa / Mastercard

2X with min. spend $1,000

50 points for each banking relationship

Must have banking relationship with SCB

$250 min. spend for bonus points
DBS Woman's World Card – 10X rewards on all online spend
---
Card Benefits
Earn 10X Rewards (10 DBS Points OR 20 miles per S$5 spend) when shopping online
Earn 3X Rewards (3 DBS Points OR 6 miles per S$5 spend) when shopping overseas
Enjoy 0% interest over 3, 6 or 12 months and waived processing fee with My Preferred Payment Plan
Enjoy exclusive shopping privileges with DBS Lifestyle App
Did you know that some rewards credit cards outperform air miles credit cards in earning air miles? The trick is to use 10X rewards cards like the DBS Woman's World Card – if you meet its high minimum income requirement. And yes, men can sign up too.
It takes just $2,500 of online spend across 2 months to get 5,000 DBS Points, which you can convert to 10,000 KrisFlyer miles. That's basically an earn rate of 4 miles per dollar.
While it's not the only 10X rewards card around, the DBS Woman's World Card is the most versatile – you get 10X rewards for almost all online spending, local and overseas.
That includes travel spend on flights and accommodation, daily essentials like online groceries, plus all that random stuff you get on Amazon and Taobao. This wide basket makes it easy to rack up points fast.
However, the cap of $2,000 a month means you can't cash in on higher-expense occasions like long-haul travel or revamping your home. Perhaps pair this card with the DBS Altitude air miles card, which also earns DBS Points?
DBS credit card rewards: Unfortunately, the DBS Rewards catalogue isn't the most impressive if you're not interested in air miles. Apart from a couple of standouts like PS Cafe vouchers and a yacht charter package, it has a rather limited range of restaurants and retailers vouchers.
Sign up if: You make $80K a year and want to earn miles fast with online spending.
UOB Preferred Platinum Visa Card – 10x rewards on online & contactless payment
UOB Preferred Platinum Visa Card
---
Card Benefits
Enjoy 2% rebate at Metro, World of Sports and Winter Time
Enjoy 3% rebate at bYSI, ColorWash, Crocodile, DHL, and Sephora
Enjoy 5% rebate at Tissot
With a much lower salary requirement of $30,000, the UOB Preferred Platinum Visa Card is much more accessible than the DBS Woman's World, with a similar rewards structure.
The range of 10X rewards is slightly smaller. You can earn them on online shopping, groceries, food delivery and entertainment (e.g. movies) but not on other categories like travel and services.
Then again, you get 10X rewards on contactless payment so it's a useful card for day-to-day offline spending, now that so many stores and eateries offer Visa payWave.
However, note the UNI$2,000 cap – effectively $1,000 spend on 10X rewards categories. That's half the cap on the DBS Woman's World.
UOB credit card rewards: UOB's catalogue has a significantly wider range than DBS. If you're not interested in air miles, you can choose from vouchers at various malls, boutiques and restaurants including Spa Esprit, EpiCentre, IKEA and Les Amis group. If all else fails, you can convert your points into a cash rebate.
Sign up if: You have a combination of online and offline spending <$1,000 a month.
UOB Visa Signature Card – 10x rewards on overseas spend, petrol, Visa payWave
For frequent travellers, here's a rewards credit card that's almost like an air miles card (but better). As long as you spend $1,000 and above overseas (in foreign currency) you can get 10X rewards (4 miles per dollar), up to $2,000.
You can also use it on day-to-day spending – petrol and contactless payment – back home and enjoy the same earn rate. However, separate minimum spends apply for local vs. overseas spending, so take note of the T&Cs.
UOB credit card rewards: See above.
Sign up if: You spend >$1,000 in foreign currency a month.
Citi Rewards Card – 10x rewards on fashion
---
Card Benefits
10X Rewards (10 points or 4 Miles) for every S$1 spent on Shoes + Bags + Clothes at Online, Retail or Department stores, locally and overseas
Enjoy discounts of up to 50% at Foodpanda, Lazada, Zalora, Reebonz, and more
S$1 spent = 1 Rewards point (All other spend)
Although the Citi Rewards Card also offers 10X rewards, the categories are limited to fashion-related spending. That means you earn almost nothing on purchases like books, movie tickets, groceries and flights.
Given the category restriction, I suspect the cap of $2,000 is meaningless except for hardcore clotheshorses.
There's a new promotion that's pretty good though – 20X rewards ($1 = 8 miles!) at DFS, Takashimaya and Tangs until 3 May 2018.
Citibank credit card rewards: It's a shame this card is so restricted as Citibank's rewards catalogue continues to be one of the best around. It has everything from vouchers to watches to toys to hotel stays. You can also pay for Amazon purchases with rewards points, a nice way to use leftover points that are just rolling around.
Sign up if: You update your wardrobe A LOT.
OCBC Titanium Rewards Card – 10x rewards on selected categories
OCBC is a relative newcomer to the 10X rewards cards market, having revamped its Titanium Rewards Card to now offer 10X rewards on certain categories, both online and offline. They are: fashion, electronics, department stores, kidswear and (for 2018 only) personal care.
We like that there is no monthly cap, only an annual cap of 120,000 OCBC$, essentially $12,000 a year if you max out on rewards.
Also look out for promotions that can really boost your rewards earn rate, like the current one (until 11 Mar 2018) where cardholders get 30X(!) rewards for all furniture spend at IKEA – that's a whopping 12 miles per dollar.
OCBC credit card rewards: OCBC's rewards are fairly basic – the usual KrisFlyer miles and shopping vouchers at major retailers, plus dining vouchers at a better-than-average selection of restaurants. Titanium Rewards cardholders can also choose to redeem cash rebates.
HSBC's Revolution Credit Card – 5X rewards with no cap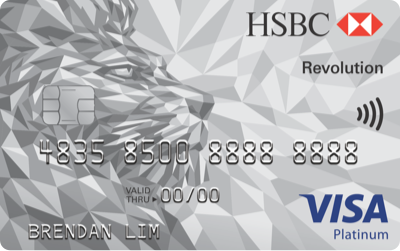 HSBC Revolution Credit Card
---
Card Benefits
Option 1: American Tourister Caravan 70cm TSA luggage (worth S$260)
Option 2: S$100 Cash Back
5X Rewards points (or 2 air miles) per $1 spent on Online, Dining and Entertainment transactions
Includes airline/movie/concert tickets, hotel/travel/taxi bookings, food orders, insurance premiums, and online shopping sites
Excludes brokerages/securities and money payment/transfer websites
Unlike the 10X rewards cards above, HSBC's Revolution Credit Card only offers a 5X multiplier. But don't dismiss it just yet – it's a good workhorse of a credit card.
Two words: NO. CAP.
When your online expenditure looks set to bust the usual $1,000-2,000 caps on 10X rewards cards, this card will still net you a respectable 5X rewards, the equivalent of 2 miles per dollar.
The best thing about this card is that you get 5X rewards on a very wide range of online spend – including flights, food delivery, movies, even insurance premiums – PLUS offline dining and entertainment.
More categories means more money spent, and more money spent means more rewards points. No need to fuss over minimum spends or go through elaborate procedures either.
HSBC credit card rewards: Apart from the usual air miles and vouchers, there's also a small but prettily curated catalogue of items like premium booze, Fitbits, Bang & Olufsen devices and a mini Segway.
Sign up if: You're looking for an all-purpose backup card to catch the "overflow" from your 10X rewards card.
American Express Rewards Card – 24,000 welcome bonus points
The American Express Rewards Card stands out as the only one on this list that gives you a generous welcome bonus – just like with Amex's air miles cards. You easily rack up 24,000 points with just $1,500 spend.
Its bonus points structure is also different from the others. You get to select your 5 favourite (offline) merchants. The good thing is you can earn bonus points at your usual petrol kiosks and supermarkets – and the bad thing is that it's only 1.5X rewards and is capped at $5,000.
American Express credit card rewards: A smallish selection of gift cards, dining vouchers and gifts. It is the travel section that shines, however. Apart from the usual KrisFlyer and Asia Miles, there are frequent flyer programmes like British Airways Executive Club, Thai Airways Royal Orchid Plus and Emirates Skywards, plus hotel loyalty programmes like Starwood Preferred Guest and Hilton Honors.
Sign up if: You want instant gratification with the welcome bonus. You're after a wide range of travel rewards.
Standard Chartered Platinum Visa / Mastercard – rewards card for low spend
Standard Chartered Platinum Visa/MasterCard Credit Card
---
Card Benefits
Get up to S$120 cashback when you sign up and use your new Credit Card
Enjoy 20% cashback on your Grab Rides
$1 = 1 point
$1 = 2 points (at least $1,000 spend per month)
Up to 15% off total bill at over 100 participating restaurants with The Good Life®
The USP of the Standard Chartered Platinum card is that you earn bonus 360° Rewards points without needing to spend much, as long as you have multiple banking relationships with Standard Chartered.
To max out on the bonus, simply bank, transact, deposit, take out a loan and invest with Standard Chartered. You only need to spend $250 on the card to get a maximum of 550 points (250 points + 300 bonus points) or 2.2X.
Standard Chartered credit card rewards: To be honest, their rewards aren't too exciting, mostly vouchers at chain restaurants and a few department stores and malls. However, their KrisFlyer miles are available in small denominations, as low as 1,015 miles.
Sign up if: Your credit card spend is low but you have multiple banking relationships with Standard Chartered.
How do rewards credit cards work?
Despite the profusion of terminology and systems, rewards cards work in roughly the same way.
As you spend on your credit card, you accrue rewards points according to a standard rate, e.g. 1 DBS Point per $5.
To reward certain types of spending, such as with specific merchants, credit card issuers offer multiplier or bonus rewards along the lines of "5X rewards for spending on Qoo10" – that means you get 5 DBS Points instead of 1 when you spend $5 on Qoo10.
Many rewards cards come with expenditure caps, so rather than earning rewards points on unlimited purchases, the points may stop coming after the first $1,000 that month. For that reason, rewards cards are not favoured for huge expenses like weddings and honeymoons.
When you're done collecting points, you can use them to redeem various things. Typically, rewards points collectors redeem dining or shopping vouchers, but air miles are also very popular.
Rewards vs air miles vs cashback
"OK," you say. "So why wouldn't I just get an air miles credit card instead? I still earn the same bank's rewards points with an air miles card."
That's true, but you can earn points faster with a rewards card if you pick the right one. Also, air miles cards are set up to fit frequent travellers. If you spend more on online shopping than travelling, you will probably be better off with a rewards card.
"Hmm, maybe I should go for a cashback card instead?"
Sure, but the payoff is completely different. If you'd rather reward yourself with shopping vouchers – no shame in that – then you'll be more motivated to use your rewards credit card.
As a general rule, cashback credit cards are good for regular, consistent spending. Otherwise it's too much trouble to remember the preferred merchants, minimum spend and assorted terms & conditions.
Rewards credit cards, on the other hand, usually have no minimum spend requirements. Or in fact much requirements at all. Therefore they're good for discretionary spending, ready to be deployed during the ASOS end-of-season sale.
Remember that rewards credit cards are versatile. You can use them to redeem air miles, vouchers, merchandise and in some cases even a cash rebate if you like.
How to choose a rewards card
Unlike cashback cards, choosing a rewards card is not a simple matter of just going for the biggest number and matching the bonus categories to your spending – although these are certainly key factors.
With rewards, you need to check the credit card rewards catalogue to see if there's actually stuff you want. Otherwise you'll just end up saddled with some lame vouchers that you won't even use. Catalogues vary wildly from bank to bank – which is why we've included a brief summary of what's on offer for each.
Finally, check the expiry dates of your rewards points. This also varies from bank to bank, even from card to card. Make sure that you can accrue enough points for your target reward within that timespan, otherwise you'll be in for a disappointing rewards experience.
Further reading on credit card rewards:
Why the Best Air Miles Credit Card May Not Be an Air Miles Credit Card
3 Situations Where You Should Not Use Your Credit Card, No Matter How Many Rewards Points You Can Earn
10 Rewards You Never Knew You Could Earn With a Credit Card
Got a credit card rewards hack to share? Tell us about your tricks in the comments.
Keep updated with all the news!
Get the latest personal finance tips and tricks delivered to your inbox!
We promise never to spam you!
Tags: Credit Cards, Dining, Entertainment, Featured, Shopping