Amex Love Dining & More – 8 Best Credit Cards for Dining in Singapore (2019)
Unlike some credit card comparison websites, I'm not going to start this article with platitudes about how eating is a popular activity among Singaporeans, or how dining is a pleasant way to obtain essential vitamins and minerals.
Instead, let's just acknowledge that I need to eat, you need to eat, so let's find some ways to get rewarded for something we do over 1,000 times a year.
8 best credit cards for dining in Singapore (2019)
| | | |
| --- | --- | --- |
| Credit card | Dining benefits | Monthly cap* |
| Amex Platinum Card | Up to 50% off under Love Dining programme | None |
| CIMB Visa Signature | 10% cashback | $50 |
| BOC Family Card | 10% cashback | $30 |
| Citi Cash Back Card | 8% cashback | $25 |
| UOB YOLO Card | 8% weekend / 3% weekday cashback | $25 |
| OCBC 365 Card | 6% cashback | $80 |
| Maybank Horizon Card | 8X points ($1 = 3.2 miles) | 30,000 points |
| HSBC Revolution Card | 5X points ($1 = 2 miles), HSBC x Entertainer benefits | None |
* Note: I included the monthly cap because eating at restaurants is one of those things where your bill can blow up real fast. If you frequent Saizeriya and Pepper Lunch, you might be okay with a $25 cap, but it won't work for someone who's sampled the entire wine list at Les Amis. Your mileage may vary.
Amex Platinum Card – 50% off under Love Dining programme
American Express Platinum Credit Card
---
Card Benefits
Love Dining @ Restaurants: 50%, 35%, 15% savings when dining with 1 friend, 2 friends, and alone respectively
Enjoy savings at artfully curated restaurants and Singapore's finest hotels with Love Dining
Love Dining @ Hotels: Discounts applicable for groups up to 19 pax at Raffles Hotel Singapore, Shangri-La Hotel Singapore, The St. Regis and more
With Love Dining @ Hotels, receive a complimentary The Far Card Classic Membership
Eligible for use with Apple Pay
You know those 1-for-1 buffet promotions at completely unheard-of restaurants that some credit cards try to pass off as "dining privileges"? Well, you're not going to get that with the Amex Platinum Card.
Although it doesn't offer cashback or significant bonus points, its key benefit is the Love Dining programme, which gives you up to 50% off at fine wining and dining establishments (that you actually want to eat at). Have a look at the list of Love Dining restaurants and see if they're your kind of thing.
To put the discount in perspective, imagine that you and your best friend feel like pigging out at a buffet this weekend. Would you rather pay $33.80++ per head at Buffet Town or $30-odd (after splitting the $59++ Amex bill) at Oscar's at Conrad Centennial?
Note that the discount drops sharply from 50% once your group size is anything other than 2. If you spend a lot on dates and/or one-on-one hangouts, that's great. But if you're a big group dinner kind of person, then this card isn't worth the annual fee.
Oh yes, you read right: There's a hefty annual fee of $321 (no waiver). Read our review of the Amex Platinum Card to decide if it's worth it.
CIMB Visa Signature – 10% cashback on all dining
Don't want to pay the annual fee just for dining savings? Well, Malaysian bank CIMB has the best dining cashback in the market, AND there's no annual fee for life.
We're talking about a cool 10% cashback on all dining and nightlife, locally and overseas. Bonus: you can also get 10% cashback on online spending and on groceries, making it triple-y versatile as an all-rounded credit card.
The CIMB Visa Signature has a minimum spend requirement of $600 (should be no biggie, since there's cashback on… everything).
The main thing to note with this card is the cashback cap of $50 for the dining component. It takes just $500 of spending to burst that cap, so if you dine out a whole lot, be careful. On the other hand, the total cashback cap is a pretty high $100, so feel free to spend in the online and groceries categories as well.
Read the full review of the CIMB Visa Signature Card here.
BOC Family Card – 10% cashback on all dining
No one shows off their Bank of China credit cards, do they? But the fact is that the BOC Family Card has some of the highest cashback on dining in town – 10% too.
Unlike the CIMB Visa Signature, however, the dining cashback is capped even more strictly at $25 a month. AND the minimum spend each month is higher, at $800 (revised from $700 to $800 in December 2018).
But the trade-off is that the BOC Family Card is an extremely versatile all-purpose cashback card. With 10% cashback on movies and dining, 5% on merchants like BEST Denki, Popular Bookstore, and Watsons, 3% on groceries and transport (Grab and taxi), and 0.3% on all other purchases, it might par the CIMB Visa Signature as an all-rounder for breadwinners.
Read the full review of the BOC Family Card here.
Citibank Cash Back Card – 8% cashback on dining
---
Card Benefits
8% cash back on your dining spends globally
8% cash back also applicable for food delivery (including Deliveroo and foodpanda)
Exclusive dining deals with Citi Gourmet Pleasures at top restaurants such as Kuro Restaurant & Bar, Skyve Wine Bistro and more
Total min. retail spend of S$888/month, 8% cash back capped at S$25 per category
For retail spend less than S$888 and/or other retail spend categories, 0.25% cash back is awarded, no cap on 0.25% cash back earned
Even though the Citi Cash Back Card's 8% cashback on all dining looks impressive, your rebate is capped at $25. That limits your spending to $312.50 a month.
On the other hand, the Citi Cash Back Card is an all-purpose cashback card, not a dining-focused one. It gives 8% cashback in 3 other categories – petrol, groceries and Grab rides – and the same $25 cap applies to each one. So it's a perfectly serviceable card if you dine out only a couple of times a month and don't want to juggle too many credit cards.
Read the full review of the Citi Cash Back Card here.
UOB YOLO Credit Card – 8% cashback on weekend dining
---
Card Benefits
16%* cash rebate on weekend Dining, both local and overseas
Get up to 10% cashback at Hareloom Bistro Modern offers
3% cash rebate on weekday Dining
0.3% cash rebate on all other spend
Minimum spend of S$600 per statement month for 16% and 3% rebate, otherwise 0.3% rebate earned on all spend. Total rebate capped at S$60 per month
It's a bit of a shame that UOB markets this card so aggressively to millennials, because it's actually a really good dining credit card no matter what the cardholder's age.
On weekends, you get a very respectable dining rebate of 8%, while on weekdays it drops to 3%. What's great is that the UOB YOLO Card also gives similar rebates on Grab rides and entertainment (clubbing, movies). So if you're not very interested in groceries and telco bill rebates, this is your card.
There's a pretty doable minimum spend of $600 each month, and cashback is capped at $60 a month in total.
Read the full review of the UOB YOLO Card here.
OCBC 365 Card – 6% cashback on dining
---
Card Benefits
6% cashback on local and overseas dining, everyday
6% cashback on online food delivery e.g. Deliveroo and Foodpanda
Min. spend of $800/month, cap S$80/month
Once upon a time, the OCBC 365 was among the top few weekend dining credit cards in Singapore. And with 6% cashback on dining (any day), it does seem decent.
However, other banks, especially foreign ones, are increasingly competitive with dining benefits. With its higher-than-average $800 minimum spend and $80 cap, OCBC 365 doesn't shine in these two areas either. 
The only saving grace is that almost all your typical everyday expenditure can be counted towards this minimum spend.
So, who should get this card? One, OCBC 360 savings account holders who need to spend on an OCBC credit card. Two, those who want just one card for their general spending since it also offers rebates on groceries, online shopping and telco bills.
Read the full review of the OCBC 365 Card here.
Maybank Horizon Card – 8X rewards ($1 = 3.2 miles) for dining
Maybank Horizon Visa Signature Card
---
Card Benefits
Earn 3.2 air miles (8X TREATS Points) for every S$1 spent on selected dining merchants
Min spend: S$300/month
Capped at 30,000 Bonus TREATS Points per month
1X TREATS Point with no minimum spend
We admit it, cashback cards can have pretty troublesome requirements. We don't blame you for wanting to pick a rewards or air miles card instead. Plus, who wouldn't want to earn air miles while they eat?
Of the many rewards and air miles credit cards on the market, however, not many actually reward dining. Your best bet is the Maybank Horizon Visa Signature, which has the best rewards/miles earn rate in Singapore for dining.
Unlike many rewards and miles cards, this card has a minimum spend of $300 a month. It's not a lot, but it is something to keep in mind.
On the flip side, the monthly cap is really high – you can spend up to $3,750 before you hit the cap. This is a keeper if you're into fine dining, because you'd easily burst the cap on a cashback card.
HSBC Revolution Credit Card – 5X rewards ($1 = 2 miles) for dining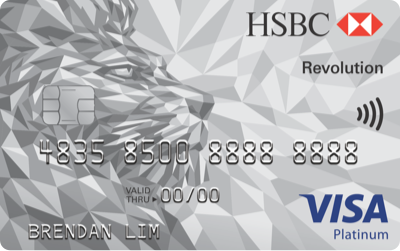 HSBC Revolution Credit Card
---
Card Benefits
5X Rewards points (or 2 air miles) per $1 spent on Local Dining and Entertainment transactions
Includes restaurants, cafes, and fast food outlets
Excludes dining merchants within hotels
Access over 1,000 1-for-1 deals through ENTERTAINER with HSBC and up to 15% off at over 50 dining outlets
Finally, we have the HSBC Revolution Credit Card, which is a decent all-rounded rewards card that gives you 5X rewards, or 2 miles per dollar, on dining.
Not as impressive as Maybank's offerings, of course, but it's a little more accessible, with a lower salary requirement, no minimum spend and no cap.
Plus, HSBC now has a tie-up with dining discounts publisher The Entertainer. Owning an HSBC credit card lets you unlock various 1-for-1 dining deals around town via the HSBC x Entertainer app, so it's almost like a mini version of Amex's Love Dining programme.
For a full review of the HSBC Revolution Card, read here.
Over to you – tell us which credit card do you use at restaurants and why?
Related articles
The Best 1-for-1 Hotel Buffet Dining Promotions in Singapore
21 Best High Tea Sets & Buffets in Singapore (2019) – From Affordable to Super Atas
Dempsey Hill Restaurants Price Guide – 15 Best Restaurants for Every Budget
Personal finance tips delivered to your inbox!
Receive news, subscriber-exclusive promotions and guides on how to become smarter with money.
We promise never to spam you!
Tags: Credit Cards, Dining