With low barriers to entry and plenty of flexibility, it's no surprise that being a food delivery rider for Deliveroo, Foodpanda or GrabFood is an attractive proposition as a side gig (or even your main gig).
But being a food delivery rider is most definitely not easy money. Let's take a look at how much riders earn these days and whether it's worthwhile.
How much you can earn as a food delivery rider?
| | |
| --- | --- |
| Food delivery app | Average rider pay |
| Foodpanda | $10 to $25 per hour |
| GrabFood | $10 to $17 per hour |
| Deliveroo | $9 to $23 per hour |
| All | $15 per hour, or $5 to $7.50 per delivery |
Deliveroo, GrabFood or Foodpanda no longer publish their rider pay structures. So we looked on Glassdoor instead. Based on Glassdoor stats, food delivery riders earn about $15 per hour in Singapore on average.
Of course, food delivery riders are paid per delivery, not by hour. According to Straits Times, food delivery riders were paid about $6.50 to $7.50 per delivery back in 2020. Our sources tell us that it might actually be closer to $5 per delivery these days.
Take all these numbers with an armload of salt, because your mileage literally may vary. Your earnings would depend on all kinds of external factors, such as general demand and rider supply.
For example, dine-in was banned when Singapore went through months of Phase 2 (Heightened Alert) in mid-2021. But riders report having to work longer hours to earn the same pay despite higher demand for deliveries.
That's because food delivery companies were onboarding new riders to meet the anticipated demand. With a much bigger fleet, the apps could meet demand — but their riders also spent more time waiting for jobs to come their way. The long waiting times at eateries also caused hourly earnings to dip.
Still, if you're keen to try it out, here's how to get started as a food delivery rider.
How to sign up as a GrabFood rider
Here are the transport options for signing up as a GrabFood rider:
Walker
Bicycle
E-bike (Power-Assisted Bike)
Motorbike
Van
For the latter two vehicles, you'll need commercial motor insurance that covers food & parcel deliveries.
Fill in the sign up form on GrabFood's rider page, making sure you have the required documents. After your application is processed, you'll need to complete the complete the online training course.
GrabFood rider kit
The final step before you can start work is to purchase your GrabFood rider kit.
GrabFood rider kit
Includes
Cost
Motorcycle/Car/PAB/Bicycle Starter Pack
1 x Backpack
1 x Halal Bag
2 x Long Sleeve T-Shirt
$72
Motorcycle/Car/PAB/Bicycle Upsized Pack
1 x Basic Starter Pack
1 x Sling Bag
$105
Walker Starter Pack
1 x Sling Bag
1 x Halal Bag
2 x Long Sleeve T-Shirts
$60
You'll get an SMS and email notification asking you to come down to the Grab office at Sin Ming to buy your kit and activate your account.
GrabFood rider pay
GrabFood riders are paid on a per-delivery basis, the trip fare being displayed on the app. Trip fares are calculated based on distance travelled + vehicle type.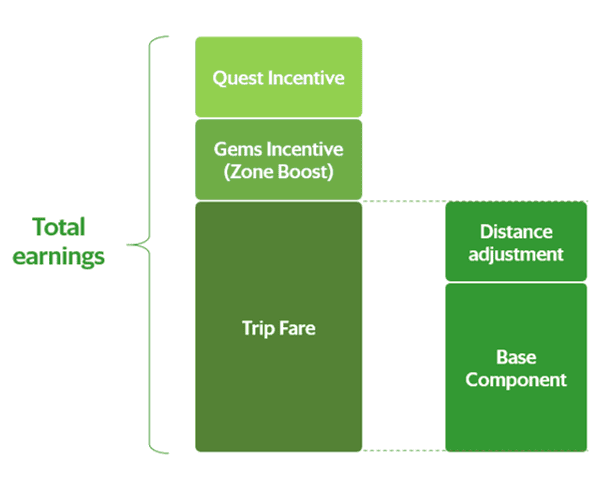 On top of your trip fare, GrabFood offers Zone Boost Gems in peak demand areas and timeslots. You can view the areas with gems on the GrabFood rider app. Every 20 gems lets you earn $1 more per trip, but you need to earn at least 80 gems per day.
Finally, there are also Quest Incentives attached to certain "missions" and delivery types (such as GrabExpress and GrabMart orders).
Your earnings will show up in your GrabPay wallet, which you can cash out to your bank account anytime, subject to minimum of $50.
How to sign up as a Deliveroo rider
You can become a Deliveroo rider with the following transport options to choose from:
Walker
Bicycle
Motorbike (commercial insurance required)
To sign up, create an account on Deliveroo's rider site and complete the application process online. This includes uploading your personal documents, verification, and online training videos.
Deliveroo rider kit
Once everything's done and dusted, you will need to purchase your Deliveroo rider kit to get activated.
Deliveroo rider kit
Includes
Cost
Bicycles
Reflective jacket
Long sleeve base
Phone mount (optional)
Helmet (optional)
Insulated backpack
$50
Scooters
Reflective jacket
Long sleeve base
Phone mount (optional)
Small thermal bag
Insulated backpack
$50
Walker
Reflective jacket
Long sleeve base
Walker's Lanyard
Insulated backpack
$50
You'll be prompted to order your kit on the Deliveroo online store once your application is in final stages. Your first bundle will cost $50 (thanks to 50% discount) while subsequent ones will cost $100. Otherwise, just get yourself an insulated backpack for cheap on Carousell.
Deliveroo rider pay
Here's Deliveroo's official page on their fee structure. It's much simpler than GrabFood's — all you need to do is look at the app and it'll show you the delivery fee for that job. There are no quests or incentives.
The fee per delivery is calculated based on distance, waiting time, traffic flow, and even how hilly the route is. If you signed up as a motorbike rider, your petrol costs would already be accounted for as well.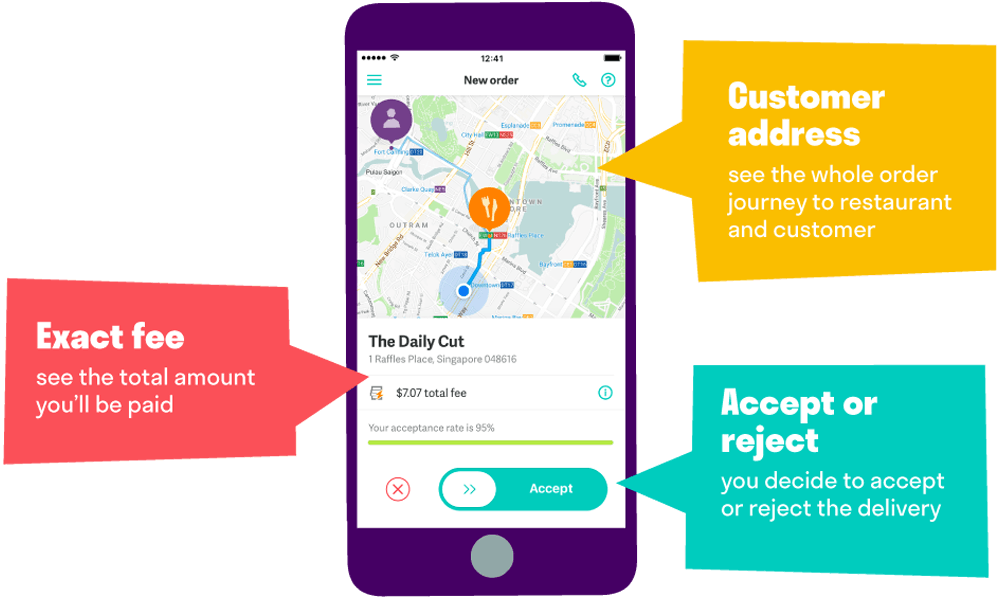 Your pay will be cashed out into your bank account every 2 weeks regardless of the amount you have earned. You can request an early cash out but it costs $1.
How to sign up as a Foodpanda rider
Foodpanda riders come in the following flavours:
Walker
Bicycle (can opt for free bike rental)
E-bike
Motorbike (commercial insurance required)
Car (commercial insurance required)
Submit your online application via Foodpanda's rider page. You can do the onboarding training online or at a Foodpanda rider hub, where you'll also pick up your kit.
Foodpanda rider kit
It's mandatory to buy your own Foodpanda rider kit before you can start work. Here are the options and prices for newbies.
Foodpanda rider kit
Includes
Cost
Motorist/ Car Enhanced Set
Short sleeve shirt
Long sleeve shirt
Halal thermal bag
Regular thermal bag
Motorist backpack
$65
Motorist/ Car Premium Set
Short sleeve shirt
Long sleeve shirt
Rain set
Halal thermal bag
Regular thermal bag
Motorist backpack
$105
Motorist/ Car Premium Set 2.0
Short sleeve shirt
Long sleeve shirt
Waterproof jacket
Halal thermal bag
Regular thermal bag
Motorist backpack
$85
Foodpanda rider pay
Foodpanda's rider fees are not only based on the usual parameters like distance, vehicle, time and area, but also rider performance!
Unlike the other food delivery apps, Foodpanda opts for preferential treatment for their "most dedicated riders" via a batch system. In summary, every rider gets a weekly score based on their performance. A high score gives you priority in booking shifts and better pay.
Foodpanda's latest rider score update will be enforced the 24 January 2022. Here's what to expect:
| | | |
| --- | --- | --- |
| Rider Score Component | Weight | Description |
| 1. Acceptance Rate | 15% | This represents the numbers of orders you accepted vs. the number of orders assigned to you |
| 2. Actual vs Planned | 30% | This is the amount of time you've fulfilled within your shift hours (actual) DIVIDED by the amount of shift hours you've booked (planned). This also includes late log-ins, no-shows, and the breaks you take during your shift. |
| 3. Special Hours | 55% | You will receive a higher score when you clock in these special hours: Mon-Sun 6-9pm; Fri-Sun 11:30am-3pm |
As batching is done weekly, it means you have to go all-in with Foodpanda if you want to climb the ranks, and continue to put in effort in order not to fall down the hierarchy.
If you don't like the idea of reliving your primary school streaming exams week after week, perhaps it's better to go to another competitor. Then again, this system might encourage you to be loyal once you've made your way to the top.
Earnings are credited to your Foodpanda rider wallet weekly, and you can cash it out once a week for free, with no minimum amount to meet. Subsequent cash outs cost $0.50 each.
Which food delivery app should you sign up with?
As the start-up cost is pretty low, there's no harm giving it a shot (though be aware the rider supply is flooded at the moment during Phase 2 Heightened Alert).
GrabFood and Deliveroo are both good options for casual dabblers if you're looking to earn cash on the side. You can get most of the onboarding done online, and then simply turn on your app and go.
Deliveroo's rider kit is also the cheapest, at $50 for new riders.
Meanwhile, Foodpanda is probably more for serious riders who want to go all-out and earn money. It rewards those who are dedicated and hardworking.
But do consider Foodpanda for the free bike rental if you don't have your own bicycle. It's the only app offering this perk for those without a vehicle. Otherwise, you're stuck being a walker and probably can't earn much.
Is being a food delivery rider worth it?
It's probably not for everyone, but then again, everyone's circumstances are different.
First, the average pay of $15/hour isn't too shabby. Compare this to conventional part time jobs such as cashiering or packing in a warehouse, which would pay $8 to $10 per hour. Delivering food is arguably easier too.
But the pay isn't the only reason why being a food delivery rider is so popular. It also comes with a few other benefits.
Low barrier to entry: As long as you're a Singaporean/PR and at least 18 years old, you can start earning spare cash with your motorcycle, bicycle or even your legs
Work around your neighbourhood: You save time and commuting fare by working around your own area
Own time, own target: No need to rush to be at work on time or fret about not getting enough shifts. All you need to do is activate the app whenever you feel like working, and off you go
Less stress from people: Unlike some service or office jobs, you generally don't have to deal with unreasonable customers or psychotic supervisors
Of course, being a food delivery rider can be tiring, uncomfortable and dangerous — not to mention, there's no CPF and barely any legal protection since you're not an employee. But you knew that already, right?
Found this article useful? Share it with anyone who might like it.