Sheng Siong Online vs NTUC Online – Which Is More Worth Your Time?
Nobody's got time to go to the supermarket anymore, which is why being able to shop for groceries from NTUC Fairprice or Sheng Siong online is such a lifesaver.
For a long time, NTUC FairPrice was the budget shopper's go-to online grocery store.
But now Sheng Siong has opened their own online shop, romantically-named AllForYou, and given the fact that their prices are known for being some of the lowest in town, they just might eat up a large chunk of FairPrice's online market share.
So which is better?
Product range
The two websites are arranged in a similar fashion, with categories neatly listed out in the left sidebar.
But while NTUC FairPrice's site is known for its wide selection of products, Sheng Siong seems to have pulled out all the stocks and now offers a variety that seems just as generous.
Here are a few products we've compared to see who offers a wider range:
Fresh apples
NTUC FairPrice: 12 types – Fiesta New Zealand, France Ariane, China Premium Fuji, Pasar Korean Fuji, France Liliblue Fuji, France organic Juliet, France honey crunch, South African cherry apple, Enza New Zealand Jazz, Enza New Zealand Envy, Daisy Girl organics, Lady Royal Gala
Sheng Siong: 11 types – China Fuji, France Royal Gala, France green apple, NZ Envy, China Premium Fuji, China Fuji (top red), USA red delicious, South Africa candy apple, France organic Juliet, USA organic Rosalynn, USA organic Royal Gala
Fresh broccoli
NTUC FairPrice: 2 types – Gold Australia, Good nature organic
Sheng Siong: 1 type – Australia/China broccoli
Fresh chicken eggs
NTUC FairPrice: 6 types – Pasar Singapore Farm Fresh, Seng Choon 1st Born eggs, Seng Choon Golden Corn eggs, Seng Choon large eggs, Seng Choon carrot eggs, Seng choon Farm 3 eggs
Sheng Siong: 11 types – brandless fresh eggs, Seng Choon Golden Corn eggs, Seng Choon fresh low cholesterol eggs, Seng Choon 1st Born eggs, Seng Choon Farm 3 eggs, Seng Choon Carrot eggs, Chew's fresh eggs low cholesterol, Chew's Omega 3 White eggs, Chew's fresh OMEGA6 Fresh eggs, Chew's Kampong Fresh eggs, Chew's Corn & Soya fresh eggs
Fresh chicken
NTUC FairPrice: 10 types – Kee Song chicken wings, Kee Song drumstick, Kee Song minced chicken, Kee Song boneless breast, Kee Song whole leg, Kee Song chicken thighs, Kee Song mid joint wings, Kee Song black chicken, Kee Song kampong chicken, Kee Song whole chicken
Sheng Siong: 6 types – JF black chicken, JF fresh chicken (large/small), JF female kampung chicken, JF kampung chicken, JF Halal chicken (large/small), JF Halal kampung chicken
Fresh beef
NTUC FairPrice: None
Sheng Siong: 1 type – JF Chill Minced Beef
Frozen beef
NTUC FairPrice: 8 types – Thomas Farms premium organic beef cube, Thomas Farms premium organic minced beef, Thomas Farms premium organic beef ball, Amir's beef shabu shabu, Amir's beef sukiyaki, Thomas Farms premium organic pattie, Thomas farms premium organic beef, Amir's beef frozen striploin steak
Sheng Siong: 6 types – JF frozen beef stir fry, JF frozen minced beef, JZ frozen beef shabu shabu, JF frozen beef cube, JF Frozen Beef knuckle slice, Singourmet beef sukiyaki
As you can see, the product ranges at both online stores are comparable.
The main difference, however, is that NTUC FairPrice carries more premium and organic products, which is in line with their in-store offerings. Sheng Siong's online AllForYou's product range skews more towards the budget side.
On a side note, some customers claim that Sheng Siong fresh produce is less fresh. That could have something to do with their product range, which is fair—you pay less because you are essentially receiving a different product.
Price
We compared the prices of some popular products which are being sold on both sites.
| | | |
| --- | --- | --- |
| Product | NTUC FairPrice | Sheng Siong |
| Dove Body Wash – Beauty Nourishing (1l) | $9.70 | $9.70 |
| Colgate Toothpaste Ice Cool Mint (250g) | $4.10 | $4.10 |
| Kikkoman Premium Soy Sauce (600ml) | $4.65 | $4.25 (on discount from $4.65) |
| Frezfruta Nonya Kaya (425g) | $3.45 (on discount from $3.95) | $3 (on discount from $3.45) |
| Coca Cola (1.5l) | $2.20 | $1.65 (on discount from $2.20), current offer 3 for $4.95 |
| San Remo Pasta spaghetti (500g) | $1.95 (on discount from $2.40) | $1.95 (on discount from $2.50) |
| Nong Shim Shin Ramyun noodle soup (5x120g) | $4.35, current offer buy 2 and get $0.75 off | $4.35, current offer 2 for $7.95 |
| Seng Choon Farm 3 Eggs (10 pieces) | $3.65 | $3.65 |
| Meiji Fresh Milk (2l) | $5.70 (on discount from $6.35) | $5.70 (on discount from $6.35) |
As you can see, there is surprisingly little difference in the price of products offered at both supermarkets.
So why does Sheng Siong have the reputation of being cheaper? That's because their product range skews towards budget offerings.
So if you plan to stick to the exact same brands and products, there is little incentive to switch to Sheng Siong.
On the other hand, if you're willing to choose cheaper alternatives (particularly with regard to meat, vegetables and fruit), you can indeed save a bit.
Ease of ordering
The format of both sites is almost identical. You navigate using the categories on the left or by searching for your products using the search bar. Add items to your cart and check out when you're done. Both sites require you to create an account to effect a transaction.
The Sheng Siong online AllForYou site does, however, have one big flaw—many of the products often not identified by their full brand names. This makes using the search bar a pain.
For instance, on AllForYou, Seng Choon eggs are labelled as "SCF eggs". If you search for "Seng Choon", you get nothing. Doing the same on the FairPrice site would enable you to obtain a full list of Seng Choon Farm products.
Shipping
NTUC FairPrice
Delivery charge $7.
Free shipping if you spend at least $60.
Free "Click and Collect" if you spend at least $40 (you place your order and then pick it up at the supermarket).
Sheng Siong
Delivery charge $6.
Free shipping if you spend at least $100.
Overall winner
Both sites offer very similar experiences—competitive prices, an easy-to-use online shopping experience and free delivery.
Ultimately, Sheng Siong's main competitive advantage in real life is the same as online. Those who are more price sensitive and prefer to select cheaper products even if it means switching to less established brands should consider switching to Sheng Siong online, on the AllForYou website.
However, if you don't plan to change your consumption habits at all, then stick with NTUC FairPrice's online shopping site. The prices of like products aren't very different, and it's a lot easier to qualify for free shipping.
Which credit card to use?
When trying to choose a credit card that can maximise cashback/airmiles/rewards, you'll want to look for cards that reward you for grocery spending (but make sure online groceries count), OR cards that award you for online shopping.
Also look out for cards that reward you for shopping at FairPrice or Sheng Siong specifically.
Here are some cards you might want to consider:
Citi Cash Back Card – 8% cashback at supermarkets and grocery stores, including food and grocery delivery when you spend $888 in a month.
---
Card Benefits
8% cash back on supermarkets and grocery stores worldwide
8% cash back also applicable for groceries delivery (including honestbee and RedMart)
Total min. retail spend of S$888/month, 8% cash back capped at S$25 per category
For retail spend less than S$888 and/or other retail spend categories, 0.25% cash back is awarded, no cap on cash back earned
POSB Everyday Card – 5% cashback at Sheng Siong, whether online or off, with a minimum spend of $700 per month.
---
Card Benefits
5% cash rebate with Sheng Siong
S$50 cash rebate cap per calendar month (maximum spend of S$1,000 per calendar month)
Cash rebate awarded in Daily$
HSBC Revolution Card – 5X Rewards Points for online spending with no minimum spend and no cap on number of rewards points earned.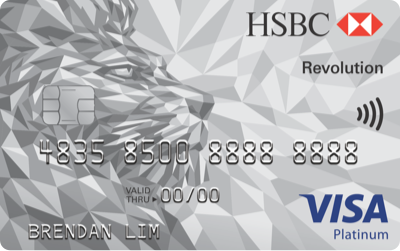 HSBC Revolution Credit Card
---
Card Benefits
5X Rewards points (or 2 air miles) per S$1 spent on Online transactions
Includes airline/movie/concert tickets, hotel/travel/taxi bookings, food orders, insurance premiums, and online shopping sites
Excludes brokerages/securities and money payment/transfer websites
Shop at NTUC FairPrice? Consider this MoneySmart Exclusive Promotion
From now till 16th February 2018, you can get up to $100 NTUC FairPrice vouchers when you apply for an American Express credit card through MoneySmart. Even if you already have an existing American Express credit card, you will still be eligible for this MoneySmart exclusive promotion.
Have you shopped at NTUC FairPrice or Sheng Siong online? Share your reviews in the comments!
Keep updated with all the news!
Get the latest personal finance tips and tricks delivered to your inbox!
We promise never to spam you!
Tags: NLW1805P03, Shopping