Best Grocery Credit Cards for NTUC FairPrice, Sheng Siong, Cold Storage & Giant (2019)
In between comparing the prices of the various instant noodle brands at NTUC FairPrice and marvelling at how much cheaper alcohol is at Sheng Siong than in bars, why not save even more money by using a cashback credit card that's optimised for your grocery shopping?
Because banks work with different supermarket chains, it can be a hassle to find out which one actually gives you the most cash rebate for your go-to grocery store. Plus, many of them come with different rebate tiers depending on how much you spend on that card that month, making it even more confusing.
Here's a list of credit cards you can use on your next grocery run.
Best credit cards for groceries in Singapore 2019
Supermarket chain

Best cashback credit cards

NTUC FairPrice

NTUC/OCBC Plus! Card, Maybank Family & Friends, Citi SMRT Card

Sheng Siong

BOC Sheng Siong Card, P

OSB Everyday Card, Citi SMRT Card

Cold Storage

Maybank Family & Friends, UOB Delight Card

Giant

Citi SMRT Card, UOB Delight Card

All supermarkets

Citi Cash Back Card, DBS Live Fresh, DBS Visa Debit Card
Here's a more detailed breakdown of which cashback cards give you rebates where. Swipe to see the full table:
Cashback card

NTUC

Sheng Siong

Cold Storage

Giant

Citi Cash Back Card

8% at all supermarkets, online and offline

DBS Live Fresh Card

5% on all online transactions & contactless payment

DBS Visa Debit Card

3% on contactless payment up to $200

Citibank SMRT Card

4.7% / 5%

4.7% / 5%

–

4.7% / 5%

Maybank Family & Friends

5% / 8%

–

5% / 8%

–

OCBC Plus! Card

7%

–

–

–

BOC Sheng Siong Card

–

7%

–

–

POSB Everyday Card

–

5%

–

–

UOB Delight Card

–

–

3% / 8%

3% / 8%
Citi Cash Back Card – best credit card for all supermarkets (8% cashback)
---
Card Benefits
8% cash back on supermarkets and grocery stores worldwide
8% cash back also applicable for groceries delivery (including honestbee and RedMart)
Total min. retail spend of S$888/month, 8% cash back capped at S$25 per category
For retail spend less than S$888 and/or other retail spend categories, 0.25% cash back is awarded, no cap on cash back earned
If your idea of a great weekend is one spent comparison shopping online, this is the card for you. Their 8% cashback offer is one of the best in town, and it applies to all groceries stores and supermarkets.
If you're a regular RedMart user, it's also a no-brainer to also sign up for their loyalty membership programme, LiveUp ($59.90/year). Unfortunately the 8% Citi extra rebate for RedMart has since been abolished with new changes to the LiveUp membership.
The main drawback for the Citi Cash Back Card is that the minimum spending requirement is a high $888. Since the grocery cashback is only $25 a month (which limits your spending to $312.50), you probably don't want to spend that $888 all on groceries to feed your 8 kids.
On the bright side, there's lots of other stuff you can spend on to meet the minimum spending requirements, since you also get 8% cashback on dining, Grab and petrol.
Alternatives: For online grocery shopping, the DBS Live Fresh Card is also good as it gives you 5% cashback on online spending – it's good for up to $400 a month of online purchases. You get the same 5% on PayWave transactions so you can use it offline too.
OCBC Plus! Visa Card – best credit card to use at NTUC FairPrice (7% rebate)
If you're a die-hard fan of NTUC FairPrice, you probably already have an NTUC membership, right? You probably also have the NTUC Plus! Visa Card too. On paper, it gives you the absolute highest rebates at NTUC FairPrice – "up to" a whopping 12%.
Yup. Everyone's favourite words: "up to". Check out the fine print…
That's right. You only get 12% rebate if you fulfill all the conditions:
(a) NTUC member,
(b) NTUC FairPrice shareholder,
(c) have an NTUC-OCBC Starter Account,
(d) credit your salary to that account faithfully, and
(e) spend $400 outside of NTUC every month.
Wah lao… I think it's too much lah, even for the most faithful of NTUC fans. If you don't fulfil all the conditions, the rebate is just 7%, which is basically the same as the "weaker" OCBC Plus! Visa Card which doesn't require an NTUC membership.
OCBC Plus! Visa Credit Card
---
Card Benefits
Enjoy 7% rebate at FairPrice and 3% rebate at Fairprice Online
The really irritating thing about this card is that it requires you to spend $500 outside NTUC. Only the most hardcore of NTUC fans will want to do that.
Alternatives: For the rest of us, I'd recommend the no-minimum-spend Citibank SMRT Card which gives you 4.7% or 5% cashback at NTUC FairPrice, as long as your bill is at least $50.
BOC Sheng Siong Card – best credit card to use at Sheng Siong (7% cashback)
For those of you who prefer to shop at Sheng Siong, you have a few options. Anyway, shopping at Sheng Siong is a commitment to being cheapo right? (Source: I shop at Sheng Siong.)
Hands down, the best one is Bank of China's Sheng Siong card. There's no minimum spend to get 7% cashback. Sweet! There's also an upper tier 12% rebate but it requires you to spend $400 outside of Sheng Siong. Nah, screw that.
---
Card Benefits
5% cash rebate with Sheng Siong
S$50 cash rebate cap per calendar month (maximum spend of S$1,000 per calendar month)
Cash rebate awarded in Daily$
Alternatives: Another great fuss-free option is the POSB Everyday Card, which also has no minimum spend requirement, but has a lower cash rebate of 5%.
Or, if you'd rather consolidate your spending into one card and don't mind having to hit a minimum spend, you could simply stick with the Citi Cash Back Card or DBS Live Fresh Card.
Citibank SMRT Card – best credit card to use at Giant (4.7% / 5% cashback)
---
Card Benefits
Up to 5% savings on Groceries. 4.7% (For transactions above $50. If transaction is $50 and below, 2.7% awarded instead) + 0.3% (If monthly card spend is at least $300)
Grocery - NTUC FairPrice, Giant, Sheng Siong, NTUC FairPrice Xtra Kallang Wave (up to 7.3% savings) only
Savings awarded in SMRT$. 1 SMRT$ = S$1 of vouchers. Vouchers available for Giant, Sheng Siong, SMRT, Popular, Watsons, Shaw Theatres
High cashback usually comes with high minimum spending requirements. The Citibank SMRT Card is a bit of an exception.
The card offers a generous 5% cash rebate at Giant, Sheng Siong and NTUC FairPrice so long as you spend $300 a month, which is doable for even the thriftiest of us. Even if you don't meet the minimum spending requirement, you still get a generous 4.7% rebate.
The main thing to pay attention to is to ensure your purchases add up to at least $50 each time, otherwise you will lose 2% cashback.
If you shop at Giant a lot, don't forget to tap your PAssion Card before you make payment to earn points that can be offset against your next purchase. (Payment can be made with any other credit card.)
Alternatives: Well, there's the UOB Delight Card, but it's not as good. It offers only 3% cashback with a minimum spend of $400 a month; to hit the higher 8% tier you'd need to spend $800.
Maybank Family & Friends – best credit card to use at Cold Storage (5% / 8% cashback)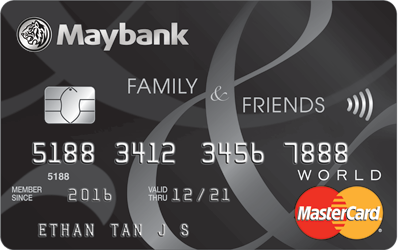 Maybank Family & Friends Card
---
Card Benefits
Up to 8% cash rebate at selected merchants
Merchants include Cold Storage and NTUC FairPrice (Singapore) and Giant, TESCO, and more (Malaysia)
Get 0.3% cash rebate on all other spend with no cap on cash rebates
If your goal is to save money, you probably wouldn't be shopping at Cold Storage frequently anyway, but hey, who are we to stand between a man and his stinky French cheese?
For the times you really need to make a Cold Storage run, it's handy to have the Maybank Family & Friends card which gives you 5% or 8% rebate at Cold Storage, as well as the more pedestrian NTUC FairPrice.
Best of all, this credit card gives you the same rebates at major Johor Bahru supermarkets (e.g. Aeon, Tesco & Giant Malaysia), so you get rebates on top of the savings you get by paying in ringgit!
To get your rebates, you need to meet a minimum spend of $500 for the 5% tier and $1,000 for the 8% tier. The family-oriented credit card has a whole bunch of rebate categories, like petrol, fast food, pharmacies and Popular bookstores.
Alternatives: The UOB Delight Card has a similar two-tier cashback structure, but it's a little less rewarding. See the section on Giant more details.
What is your favourite cashback credit card for groceries? Share your recommendations in the comments!
Related articles
The Best Cashback Credit Cards in Singapore
The Best & Cheapest Things to Buy from ValuDollar & ABC
Ang Mo Supermarket – Cheapest Groceries to Buy From This Heartland Store (2019)
Personal finance tips delivered to your inbox!
Receive news, subscriber-exclusive promotions and guides on how to become smarter with money.
We promise never to spam you!
Tags: Credit Cards