Bus & MRT Fares to Increase: 7 Ways to Still Save Money & Time on Your Commute
Singaporeans complain about MRT breakdowns all the time, but the truth is that we're a lucky bunch. Objectively speaking, the Singapore public transport system is reasonably efficient. Also, it seems like the frequency of MRT breaking down has significantly gone down, so kudos to SMRT.
But good things must pay, right? Everyone's talking about public transport fares in Singapore this month because operators SBS Transit and SMRT just recently applied for a fare increase. From 28 December 2019, bus and MRT fares will increase by 7 per cent.
TL;DR
Adult card fares will rise by 9 cents per trip.
Senior citizens, low-wage workers, persons with disabilities and students see an increase of 4 cents per trip.
Single-trip tickets will be 20 cents more expensive per trip.
Monthly concession passes will cost $1 to $8 more.
Polytechnic or diploma student now qualify for student concessionary fares, which is capped at $0.63 per trip.
The reasons for the fare hike include rising energy prices, and increasing costs needed to build new lines and maintain rail operations.
Regardless how valid these reasons are, this news have caused many of us to grumble and complain. Fare hike, again?!
Here are a few ways you can still shave either time or money off your commute:
1. Tap into the MRT before 7:45am
Taking the train during morning pre-peak hours used to be free, but even though that policy has been scrapped, you can still benefit from rising early.
Tapping in before 7.45am will earn you $0.50 off your MRT fares. If your ride costs under $0.50, it's free!
Here's an example taken from the Public Transport Council site. For a commuter who taps in at Jurong East and taps out at Bishan before 7.45, this is how much he will pay as compared to other peak-hour commuters:
| | | |
| --- | --- | --- |
| Commuter Group | Current Fare | Discounted Fare |
| Adult | $1.61 | $1.11 |
| Senior Citizen | $0.87 | $0.37 |
| Student | $0.58 | $0.08 |
After 28 December 2019, the fares will become: 
| | | |
| --- | --- | --- |
| Commuter Group | Current Fare | Discounted Fare |
| Adult | $1.70 | $1.20 |
| Senior Citizen | $0.91 | $0.41 |
| Student | $0.62 | $0.12 |
Still, if you're consistent in being early, the savings do add up. You'd be saving $11 a month (22 working days), which is a few meals' worth in Singapore!
2. Use the best credit card for public transport with SimplyGo or EZ-Reload
With the introduction of SimplyGo in April 2019, you can completely bypass the EZ-Link card, and use your credit card to pay for public transport. If you're not familiar with how it works, you can read more here: TransitLink's SimplyGo (Formerly ABT) is Here. Should You Ditch Your EZLink Card?
There are quite few credit cards that can earn you some pretty neat rebates for public transport. We won't go into the full list here, but these are the 2 more popular credit cards for public transport:
Maybank Family & Friends Credit Card — 8% cash rebate on public transport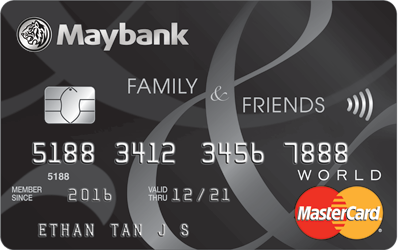 Maybank Family & Friends Card
---
Card Benefits
Up to 8% cash rebate on groceries, shopping, dining, food deliveries, petrol, and entertainment spend
Up to 8% cash rebate on bus, train, and taxi rides
8% or 5% cash rebate with minimum spend of S$1000/S$500 per month respectively. Cash rebate cap at S$600/year
Get 0.3% cash rebate on all other spend with no cap on cash rebates
The Maybank Family & Friends card has the highest cash rebate of 8% for public transport rides. The catch is that you need to spend $800 per month to earn it, although this card functions very well as a multi-category cashback card so you can easily consolidate all your regular spending on it.
Alternatively, you can hit a minimum spend of $500 and you'll still get a 5% rebate, which is relatively good too. Anything under $500 is a waste – you only get 0.3%.
DBS Live Fresh Card — 5% cash back on all contactless payment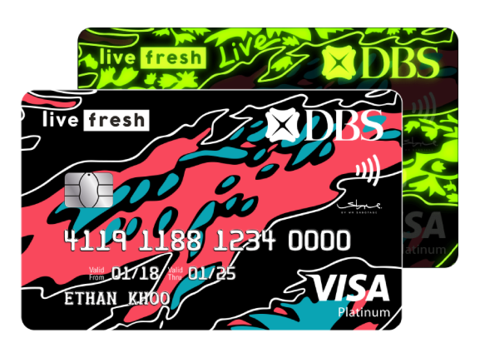 ---
Card Benefits
5% cashback on online shopping and when you pay using Visa payWave, Apple Pay, Samsung Pay or Android Pay through your Card
Additional 5% cashback for the first 6 months with S$600/month min. spend when signing up within 8 Jan - 31 Mar 2018, Cashback cap at S$60/month
Lazada: 20% off storewide for new shoppers with 'DBS2017'; Valid till 31 Dec 2018
Expedia: 20% off eligible hotel bookings with 'DBS10EXP' at checkout; Valid till 31 Jan 2019, and travel till 30 Apr 2019
Base rate: 0.3% on all other spend
Another great card to use with SimplyGo is the DBS Live Fresh Card. It gives you 5% cash back on all contactless and mobile payments, including public transport expenses, if you meet the $600 monthly minimum spend.
Cash back is capped at $60 per month though ($20 on eligible online spend, S$20 on eligible Visa contactless spend and S$20 on all other spend).
If for whatever reason you don't want to use SimplyGo, you can also EZ Reload to automatically top up your EZ Link card with your preferred credit card. For this case, the Citi SMRT card is a popular one.
Citi SMRT Card — up to 2% cash back for EZ-Reload transactions
---
Card Benefits
Up to 5% savings on on Groceries. 4.7% (For transactions above $50. If transaction is $50 and below, 2.7% awarded instead) + 0.3% (If monthly card spend is at least $300)Up to 5% savings on Fast Food, Movies & Coffee. 4.7% + 0.3% (if monthly card spend is at least $300)
Up to 3% savings on Online Shopping. 2.7% + 0.3% (If monthly card spend is at least $300)
Up to 2% savings on Health & Beauty. 1.7% + 0.3% (If monthly card spend is at least $300). Including GNC, Guardian, Nature's Farm, NTUC Unity Healthcare & Watson's
Up to 2% EZ-Reload Auto Top-up. 0.3% + 1.7% (If top-up more than $30. If $30 or less, 0.7% awarded instead)
Up to 5% savings for the following with monthly spend of at least $300. 5% at POPULAR Bookstores and Toys"R"Us, 5% at selected Town Councils for Service and Conservancy Charges, 1% savings on Telecommunication bills, 1% on selected Insurance providers, 1% on SPH Newspaper Subscriptions. If monthly spend is less than $300, SMRT$ earn rate will be 0.3% less.Savings awarded in SMRT$. 1 SMRT$ = S$1 of vouchers. Vouchers available for Giant, Sheng Siong, SMRT, Popular, Watsons, Shaw Theatres
0.3% awarded on all other spend categories
The Citi SMRT Card is one of the best for public transport – you get 1% rebate in SMRT$ (which is convertible to cash rebates at no cost) when you use the EZ-Reload Auto Top-up function for transactions under $30. If you spend above $30 per transaction, the rebates are bumped up to 2%.
If your monthly statement retail purchases are less than $300, your SMRT$ earn rate will be 0.3% less.
3. Get a public transport concession card (maybe)
I'll just put it out there. For most people, the Adult Concession Card is not worth it. At $120 per month, you'll need to travel A LOT to actually benefit from it. Furthermore, from 28 December 2019, the cost will increase by another $8. 
For example, if you live in Jurong and travel to Expo from Monday to Friday for work, you'll only spend $85.80 ($1.95 per trip, 2x a day for about 22 days) per month. Even after the fare hike later this year, that will still cost less than $90. And how many of us actually do cross-country commutes daily?
There's a one-time $5 card cost and a $3.10 personalisation fee too.
This concession card is probably only useful for those whose jobs require them to travel a lot, like property agents, for instance. If you're not sure how much you typically spend, you can try to calculate it with the MRT fare calculator and bus fare calculator.
However, the student and senior citizen concessionary passes are definitely worth it. Senior citizens card fares for trains are capped at $0.88 (will increase to $0.92 in Dec), while student fares are capped at $0.59 (will increase to $0.63 in Dec).
4. Download the EZ-Link Rewards app
Did you even know that you can earn EZ-Link Rewards? Sadly, this scheme isn't the most enticing…
Basically you link your EZ-Link card to the EZ-Link Rewards app and earn 1 point for every $0.10 spent. I am not a fan because the rewards are mostly vouchers and, uhm, other EZ-Link products. I don't want to spend more money and I certainly don't need more EZ-Link cards. 
It used to be that you can earn extra data if you're a Circles Life user, but this scheme has now ended. (Time to look for other SIM-Only telco providers?)
Seasonally, though, you will get practical rewards like a free Curry O from Old Chang Kee, Aglio Olio from Pastamania or Classic Kraftwich from, well, Kraftwich.
I suppose the 9-cent fare hike (adult EZ-link cards) is a plus for EZ-link rewards enthusiasts…
5. Download transport apps like Moovit, Zipster and more
You know what they say – time is money!
Sometimes getting around takes longer than it should, and it's because you need to change trains and/or buses, or take an inefficient train route (like from Pasir Ris to Expo). Here are some tips to help you save time while taking public transport in Singapore.
Popular ones include Moovit, as well as the hyperlocal chatbot Bus Uncle.
Tech start-up mobilityX recently launched Zipster as well, which is supposed to be an "all-in-one transportation app" that compiles the fares and routes for buses and trains as well as taxis and private hire rides. The start-up is backed by SMRT and Toyota Tsusho, so it's definitely one to watch.
Zipster is still in its beta phase though — I downloaded it because I thought it'd be awesome to see at one glance if it's more worth it to take a Grab instead, but for now, the app only shows buses and trains.
6. Try bus-pooling apps like Beeline or GrabShuttle
If you'd like to save time by NOT taking public transport, there are a few car- and bus-pooling options for you to try.
GrabShuttle is like an "adult school bus" – you request for a route on the app, and if there are enough people going the same way, you can book a seat for your daily commute to work.
Beeline, and ShareTransport.sg work the same way. These bus-pooling services have quite competitive prices of $3.50 to $5 per trip on average. It's definitely more expensive than taking the public bus and train, but it could potentially save you a lot of time if your route requires lots of train and bus changes.
7. Or go for car-pooling apps like GrabHitch and Ryde
Want a comfy car ride to work, but can't bear to spend the cash on taxis? Go for car-pool services like GrabHitch. It's usually 40% to 50% cheaper than a regular Grab (or even GrabShare) ride. Cheaper than taking a cab for sure, but be prepared to spend a few hundred bucks per month.
You'll need to schedule rides at least 10 minutes in advance, though, so GrabHitch is not really an option if you're in a rush. If you can plan ahead, you may be able to get repeat hitch drivers who are nice and get a comfortable and cheap ride daily.
Do you have any other "aunty" tricks to save on public transport in Singapore? Share it with us in the comments below!
Related articles
TransitLink's SimplyGo (Formerly ABT) is Here. Should You Ditch Your EZLink Card?
7 Things You Probably Didn't Know About Your EZLink Card
Citibank SMRT Card – MoneySmart Review 2019
Tags: Budgeting