HSBC's Revolution Credit Card – MoneySmart Review 2018
Everyone knows Singaporeans are obsessed with food. We're willing to travel across the country to queue up at some hawker stall in an ulu neighbourhood, and 20% of the population are food bloggers.
So it's unsurprising we're some of the region's biggest spenders on dining out.
If you're going to spend tons of money eating out, making sure you're getting rewarded for it.
Every Singaporean needs a go-to credit card for dining expenses. So how does HSBC's Revolution Credit Card stack up?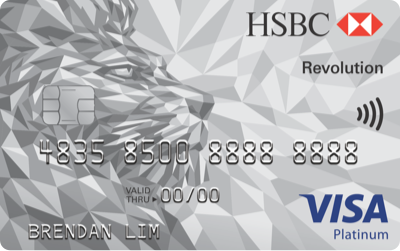 HSBC Revolution Credit Card
---
Card Benefits
5X Rewards points (or 2 air miles) per $1 spent on Online, Dining and Entertainment transactions
Includes restaurants, cafes, and fast food outlets
Excludes dining merchants within hotels
Pros and Cons of HSBC's Revolution Credit Card
| | |
| --- | --- |
| Pros | Cons |
| 5x rewards (equivalent to 2 air miles per dollar) when you spend on dining, entertainment and online purchases. | Only 1 rewards point (equivalent to 0.4 air miles per dollar) on all other spending |
| No minimum spending requirement. | |
| No limit on points earned. | |
| Entry-level minimum income requirement of $30,000. | |
| 2 year annual fee waiver. | $150 annual fee. |
| Generous sign up bonus of $140 cashback or American Tourister luggage + $20 cashback. | Sign up bonus subject to charging at least $600 within first month of card membership. Existing HSBC cardmembers or those who cancelled an HSBC card not more than a year ago only get $70 cashback. |
Why this card is great for foodies
While the rewards conversion rate might not sound that impressive, this card's real strength is the fact that it's low maintenance.
There is no minimum spending requirement for the rewards, which means you don't need to stress out about having to spend hundreds of thousands of dollars on the card every month. If you only eat out at a restaurant once that month, you still get your 5x rewards points.
And unlike many dining credit cards, you get the higher rewards rate not just for dining, but also when you spend at entertainment venues like pubs, KTV lounges and clubs.
What's more, the annual fee is waived for two years instead of the usual one, and the income requirement is low.
But let's face it—the biggest problem with this card is that you don't earn cashback, but rewards points. And how attractive these points are to you really depends on whether you have any use for what's in their rewards catalogue.
The most practical options would be to exchange your points for vacation vouchers or vouchers at one of their participating shops, like Popular or EpiCentre.
A $50 vacation voucher costs 11,000 rewards points, which you can earn after spending $2,200 at the 5x rewards points conversion rate. That means you're earning about 2.27% of your spending in rewards points, which is, well, not that impressive.
How the competition stacks up
Let's check out how this card stacks up against some of its closest competitors. As you will realise, there are very few top cards on the market that provide good rewards points accrual rates for dining spend, so we're comparing some alternatives on the cashback front here.
CIMB Visa Signature – This card is unbelievably generous with its 10% cashback on dining and foreign currency spending. But of course there is a monthly minimum spending requirement of least $500, and in addition you must make at least 8 transactions of $30 each in a month.
Citi Cash Back Card – A generous 8% cashback on groceries, dining and Grab rides up to a maximum of $100 a month. The main disadvantage vis a vis HSBC's Revolution Credit Card are that there is a minimum monthly spending of $888. Also, the generous cashback doesn't extend to entertainment venues like KTV lounges, and the annual fee is higher at $192.60 and waived only for the first year.
POSB Everyday Card – Right now, their promotion enables you to get 9% cash rebate when you dine on weekends and 3% on weekdays, as well as 14% cash rebate on online food delivery. The catch is that this offer expires on 30 Sep 2017, and you have to spend $600 in a month to qualify.
UOB YOLO Credit Card – Receive an additional 8% rebate when you dine on weekends whether in Singapore or abroad on top of the base 8%, and 3% when you dine on weekdays, or spend online on fashion and travel. The catch is that you must spend $600 in a billing month to qualify.
OCBC 365 Credit Card – 6% cashback when you dine on weekends locally, and 3% when you dine on weekends locally or overseas. You also get 3% on online shopping and at supermarkets. Once again, there is a minimum spending requirement of $600.
HSBC's Revolution Credit Card's biggest advantage compared with the competition is that there is no minimum spending requirement to satisfy in order to enjoy their accelerated rewards conversion rate.
The card stands alone because there are very few cards that align rewards points with dining spend. As you might have noticed, the above cards all offer cashback so it's important to determine what credit card benefit you want but in terms of earning points that you can convert to air miles, this card is really the card to have when it comes to dining spend.
HSBC Revolution Credit Card income requirements
Singaporeans & PRs: $30,000 p.a. OR fixed deposit of $10,000
Foreigners: $40,000 p.a. OR fixed deposit of $10,000

HSBC Revolution Credit Card annual fee
$150 (waived for two years)
What credit card do you usually use when you dine out? Share your recommendations in the comments!
Keep updated with all the news!
Get the latest personal finance tips and tricks delivered to your inbox!
We promise never to spam you!
Tags: Credit Cards