UOB Lady's Card – MoneySmart Review 2018
"The men don't get it," says the UOB Lady's Card tagline. Well, the men aren't missing out on much.
To be fair, the UOB Lady's Card probably had had its heyday. I think my mom used to use this card for wellness benefits, like spa treatments and gym entry. But it does not have such good benefits anymore – it is now more or less a pure rewards credit card.
Let's see if the UOB Lady's Card has any redeeming factors.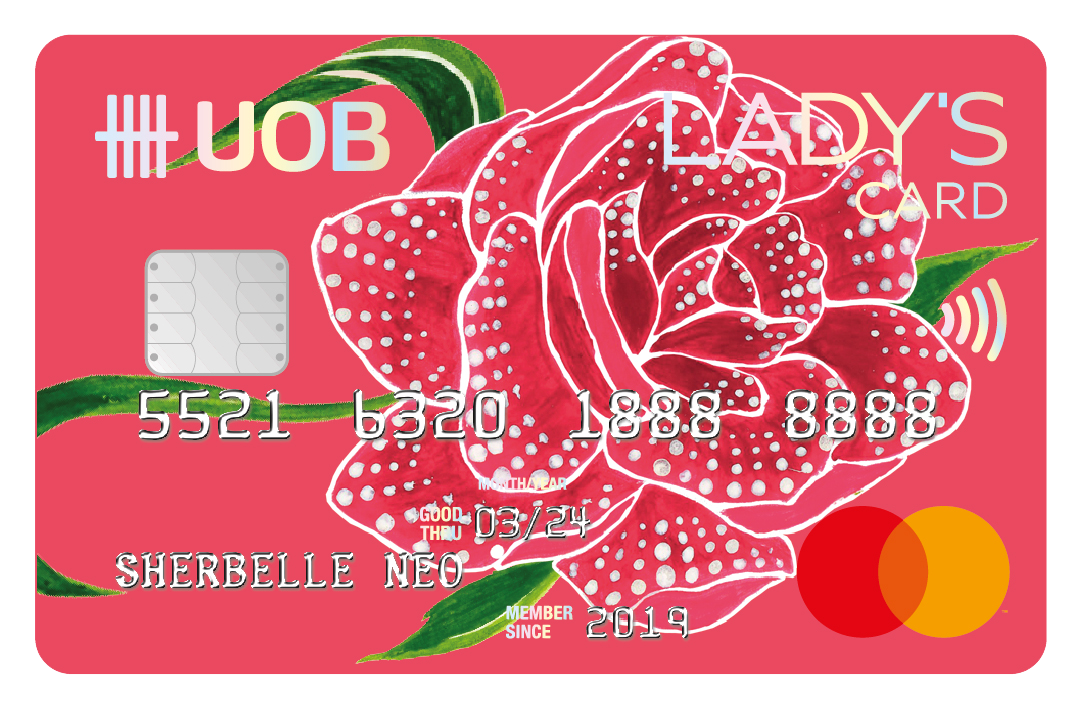 ---
Card Benefits
5X UNI$ on your shopping (local & overseas)
UOB Lady's LuxePay Plan: 6 or 12-month installment plan with no interest or processing fees
Up to 10% SMART$ rebate at over 400 participating merchant outlets
Pros and cons of the UOB Lady's Card
Pros
Cons

Sign-up bonus of $80 cashback for new UOB applicants until 31 Mar 2018.

Minimum spend $600 in the first month. Limited to the first 600 applicants.

Sign-up bonus of Vivienne Tam clutch until 30 Apr 2018.

Minimum spend $1,000 in the first month. Limited to the first 500 applicants.

Earn 5X rewards ($1 = 2 miles) on department stores, online shopping (in foreign currency) and local taxi rides.

Minimum spend $3,000 a month. Expenditure cap of $4,000.

Earn SMART$ cash rebates at various offline merchants.

Can't earn UNI$ at SMART$ participating merchants.

Free weekend parking (2 hours) at [email protected], Forum, Paragon, Scotts Square, Shaw Centre and Shaw House.

Need to spend at least $50 in a single receipt at these malls.

Cardholders enjoy dining, lifestyle and wellness promotions.

Limited selection of offers.

0% interest instalment plan (6 or 12 months) available.

Only available to women.

Entry-level minimum income requirement of $30,000 a year.

Annual fee waived for one year.

Annual fee of

$192.60.
A so-so rewards card for women
First of all, the UOB Lady's Card is really for women only. (Note that the other women's card on the market, the DBS Woman's Card, is open to anyone regardless of gender.)
The credit card's 5X rewards are not very impressive, because there are loads of other credit cards offering 10X (i.e. 4 miles per dollar) on a wider range of spending than the UOB Lady's Card. Plus there's a minimum spend of $3,000 to get 5X rewards! That's just plain absurd. Most rewards credit cards do not have a minimum spend at all.
So, what sort of woman is UOB targeting? I'm guessing it's tai tais from another era. You know, the mythical creature whose main hobbies are shopping at Tangs and high tea at the Four Seasons. And who evidently hasn't heard of Uber or Grab.
UOB Lady's Card vs the competition
So clearly the UOB Lady's Card is one for frequent shoppers. But if you love shopping, this isn't the only credit card available for you. Let's take a look at some others on the market:
Citi Rewards Card

– If you constantly need new clothes, the Citi Rewards Card lets you earn air miles faster so you can take your OOTDs in Seoul or Melbourne in no time. You get 10X rewards (twice that of the UOB Lady's Card!) when you spend on shoes, bags and clothes, and at department stores, up to $2,000 a month.
DBS Woman's World Card

– If you have a high enough qualifying income of $80,000 p.a. (we hope you do if you're planning to spend $3,000 a month on shopping) for the DBS Woman's World Card, you can get 10X rewards on pretty much any kind of online spending. It's not limited to shopping; even things like food and grocery delivery and travel bookings qualify. There's also the entry-level

DBS Woman's Card

but it's only half as good, with 5X rewards.
UOB Preferred Platinum Visa Card

– UOB ownself spoils ownself market because the UOB PP gets you twice the rewards on online shopping (plus entertainment, groceries and food delivery) and offline when you use Visa payWave (accepted at mainstream stores).
All 3 competitors have better rewards setups than the UOB Lady's Card. The best one depends on whether you prefer shopping online or offline.
If you always buy stuff on ASOS and Zalora, go for the DBS Woman's World or UOB Preferred Platinum for better online rewards. But if you really like going to Orchard Road to update your wardrobe at, the Citi Rewards Card is better for you.
UOB Lady's Card minimum income
Singaporeans & PRs: $30,000
Foreigners: $40,000
UOB Lady's Card annual fee
$192.60 (waived for first year)
Related articles:
Best UOB Credit Cards in Singapore – Credit Card Reviews 2018
The Best Rewards Credit Cards in Singapore 2018
Cashback vs Air Miles vs Rewards – Which credit card is best for you?
Keep updated with all the news!
Get the latest personal finance tips and tricks delivered to your inbox!
We promise never to spam you!
Tags: Credit Cards