4 Ways to Decide Which Credit Card Works Best for Your Year-End Holiday
Can you believe it? There are only 7 more weeks left to the end of this crazy rollercoaster year, and I for one cannot wait to end the year on a good note, and preferably on an actual rollercoaster. And no, I don't mean the ones in Sentosa. I'm thinking somewhere much, much further away. But if you haven't started planning your overseas trip, like me, here are some tips on how the right credit card can help you decide where to go by maximising its benefits.
1. Use a credit card that rewards you when making your flight booking
Gone are the days where the preferred way to travel was to book a package with an agency. More and more, the ability to customise your flights and accommodation (while saving money in the process!) has become easier and more convenient via sites like Expedia.
But don't just use any random credit card when making your booking. Here are some credit cards that reward you for making your travel plans:
---
Card Benefits
Get up to 12,000 Welcome Miles
UOB PRVI Miles American Express: 10% off at Shinsegae Duty Free + S$10 off at Uber and UberEats
UOB PRVI Miles Mastercard: Exclusive offers at Resorts World Sentosa + Discounts at Cathay Cineplexes
UOB PRVI Miles Visa: Upgrades at Visa Luxury Hotels + 28% off GV Gold Class
S$1 = 1.4 miles (Local spend); S$1 = 2.4 miles (Overseas spend)
S$1 = 6 miles for spends on major airlines and hotels booked through Expedia, UOB Travel, and Agoda
Participating airlines on Expedia include SIlkAir, Qatar Airways, Cathay Pacific, and Korean Air among others
Participating airlines on UOB Travel include Air France, Jet Airways, and KLM Royal Dutch Airlines among others
PRVI Miles American Express: 20,000 miles yearly with S$50,000 annual spend; Up to 8 complimentary one-way Changi airport transfer (2 per quarter, capped at S$45 each), with min. spend of S$1,000 overseas spend per quarter
The UOB PRVI Miles Card earns you 6 Miles for every $1 spent on airline bookings on Expedia and the bank's own site, UOB Travel. You'll even get a welcome bonus of 12,000 miles if your spending amounts to $4,000 within the first 2 months your card gets approved. That's rather easy to achieve considering how quickly your money disappears when you're travelling to countries further than Thailand.
The DBS Altitude Card earns you 3 Miles for every $1 spend on online airline bookings, regardless of airline.
Some credit cards reward you for flying with a specific airline. For example:
The American Express Singapore Airlines KrisFlyer Ascend Credit Card allows you to earn 2 Miles per $1 spent flying (surprise, surprise) Singapore Airlines or SilkAir.
If you're not the type to get bitten by the travel bug and therefore don't like earning miles that you'll probably not be able to use, consider earning cashback rebates instead.
The other alternative then is the American Express True Cashback Card, which earns a flat 1.5% cashback rebate. However, since there's no cashback cap and no minimum spend, it's perfect for large travel transactions.
2. Use a credit card that rewards you when making your hotel booking
While Expedia allows you to book both your flights and hotel in the same website, other sites like Agoda are exclusively for hotel and resort bookings. Sure, it may be a little inconvenient to book your hotel separately from your flights, but depending on your credit card, this might end up rewarding you more. Here are some examples:
Citi PremierMiles Visa Card
---
Card Benefits
Earn up to 42,000 Citi Miles when you apply and spend, T&Cs apply
MoneySmart Exclusive! - Bonus S$100 Takashimaya Voucher
S$1 = 1.2 Citi Miles (Local spend)
S$1 = 2 Citi Miles (Overseas spend)
Earn up to 10 Citi Miles for every S$1 spent on online travel bookings
Citi Miles never expire
Priority Pass™ membership gives you access to more than 600 airport lounges
Complimentary Travel Accident Insurance up to S$1,000,000 coverage, Medical Assistance Programme and Travel Inconvenience Coverage
Receive 10,000 Citi Miles upon membership renewal and payment of annual fee
1 Citi Mile = 1 Mile with over 60 popular airlines like KrisFlyer, Asia Miles, Enrich, Qantas, Qatar
The Citi PremierMiles Card lets you earn 10 Miles per $1 spent on hotel booking site Kaligo.com till the end of December.
The UOB PRVI Miles Card earns you 10 Miles for every $1 spent on Kaligo, and 6 Miles for every $1 spent on hotels on Expedia and Agoda. If you're a visa cardmember, you'll also enjoy VIP privileges such as automatic room upgrades etc, at over 900 prestigious hotels like Mandarin Oriental and Park Hyatt.
The DBS Altitude Card earns you 13 Miles for every $1 spent on Kaligo, and 3 Miles for every $1 spend on online hotel bookings, including Agoda and Expedia and even Airbnb!
3. Use a credit card that rewards you for spending overseas
Several of the credit cards mentioned above earn you air miles at a faster rate for overseas spending: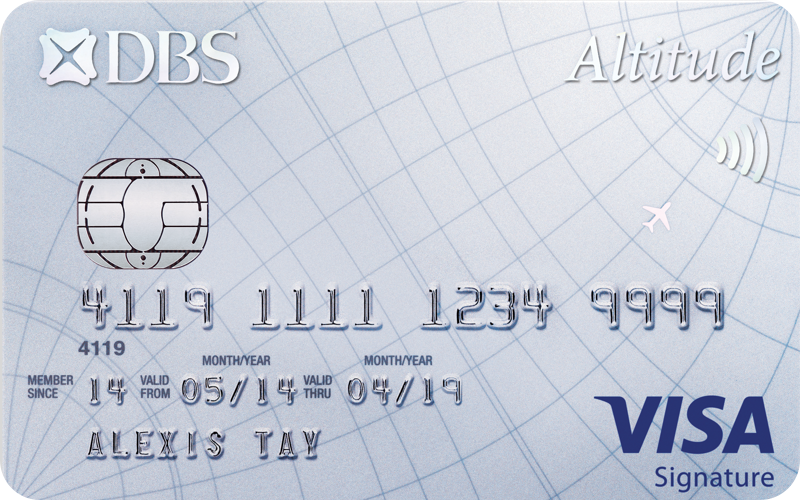 DBS Altitude Visa Signature Card
---
Card Benefits
Win a 7D6N trip to New York for Two with return airfare on Singapore Airlines
(Local spend) S$1 = 1.2 miles
(Overseas spend) S$1 = 2 miles
(Online flight & Hotel transactions) S$1 = 3 miles
6 miles/S$1 spend at Expedia; 10 miles/S$1 spend at Kaligo
Enjoy 2 Complimentary Global Airport Lounge Access visits and get up to S$1 million travel accident insurance coverage for you and your family members
The DBS Altitude Card currently has a promotion, earning you 2 Miles per $1 spent overseas. If your overseas spend falls between $2,500 to $5,000, they'll reward you with an extra 2 bonus miles per $1. That's 4 miles per $1 spent overseas! Note that there is a cap of 2,000 per calendar month.
The UOB PRVI Miles Card earns 2.4 Miles per $1 spent overseas. You'll also get a $45 rebate off your limousine ride to Changi Airport when you charge $1,000 of your holiday expenditure to the card.
Of course, when using your credit card overseas, you should always take the necessary precautions. Ensure that your bank is aware of your travel plans so that they can allow your card to be used overseas, and always be on the watch for fraudulent transactions.
Another thing to look out for would be the additional charges that you'll incur when using a credit card overseas. As a rule, you should charge the card in a foreign currency and reject any option to pay in Singapore dollars.
4. Take advantage of your credit card to enjoy airport lounge access
Since you're already planning to use your credit card to enjoy your travel, why not enjoy airport lounge access all over the world as well? That's right. By signing up for some credit cards, you will be eligible for Priority Pass membership, which gives you access to over 700 VIP lounges in hundreds of cities worldwide.
Keep updated with all the news!
Get the latest personal finance tips and tricks delivered to your inbox!
We promise never to spam you!
Tags: Credit Cards, NLW1646P05, Travel