Call me a traditionalist, but I still enjoy doing my grocery shopping in-store.
I still have my grouses though. I mean, who likes jostling with crowds of people, especially on a weekend? And trying to successfully manoeuvre your laden trolley through a narrow yet crowded aisle? I might as well pre-record my "excuse mes".
Not to mention the long snaking queues (now even longer due to the 1m safe distancing rule) of shoppers waiting in line to make payment.
The good news is, on the FairPrice app, you'll find the Scan & Go function on the top right hand side of the screen. At first glance, it works just like a self-checkout kiosk with digital payment — in the palm of your hand (no need to queue and queue) for a speedy supermarket run. But there's actually so much more to the Scan & Go function than skipping the queue.
Just how smart is Scan & Go? Here are 5 surprising hacks to save time and money when doing your grocery shopping in-store with the Scan & Go feature on your FairPrice app:
1. Scan and pack your groceries as you go
How should we use Scan & Go? Did you know that scanning and packing groceries at the end actually adds time to our shopping journey?
It's totally avoidable, though, if you're a smart shopper. For busy people who love to hustle, they don't like to waste precious minutes waiting in line if they can help it.
The solution: Scan your groceries and pack them into your reusable bags while you shop (Scan & Pack)? When you're finally reaching the Scan & Go verification kiosk, you'd have scanned your last item and can quickly pay via the FairPrice app. This means there's ample time to cook a sumptuous dinner at home, just like Jaren.
2. Go wallet-free, paperless
How many times have you gone for a jog/walk around the neighbourhood and spontaneously decided to grab some groceries on the way home?
Scan & Go allows for wallet-free and even the digital collection of LinkPoints, which is really convenient (who likes jogging with their wallet in their pockets?).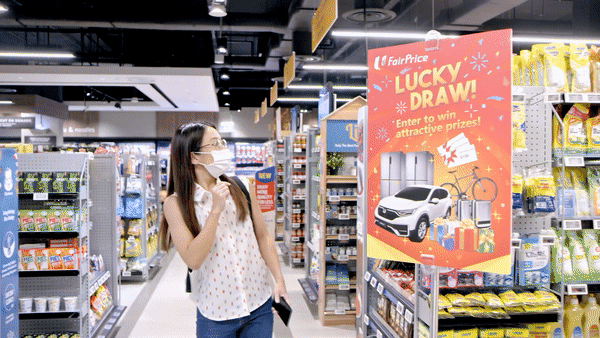 In addition, Scan & Go is also paperless, so you can avoid incurring paper waste through receipts (note: you can't recycle receipts if they're made of thermal paper) — yet you won't lose out on receiving lucky draw stubs and even points to redeem the exclusive FairPrice purchase-with-purchase items.
For socially responsible shoppers who want to reduce their waste and practice safe distancing, going paperless and being able to make wallet-free and contactless payment is very helpful. In addition, as described in our earlier point, they can scan their own groceries, and pack them into their own reusable bags — all while avoiding the crowds in the store.
Did you know? FairPrice's electronically issued lucky draw stubs can be filled in and submitted electronically, too! It's great for me, because I always either forget to fill up and submit the stubs, or keep them in my wallet until they're faded.
3. Review your past purchase history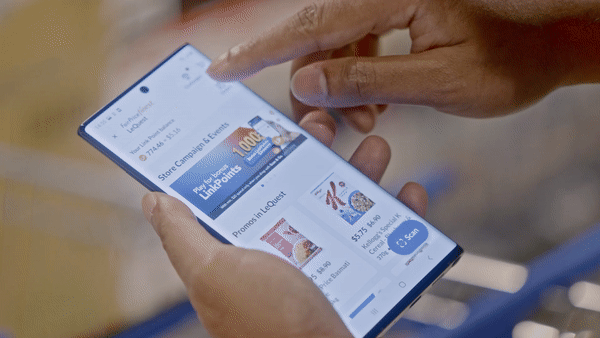 When using Scan & Go, you can also review your past purchase history in the FairPrice app. Does it really matter, you ask? Isn't it just a paperless way to record what you bought?
Smart shoppers will know that this record helps them to remember a few things:
What was that yummy brand of biscuits you bought for the family on your last grocery run? You quickly check your purchase history

Your friend texts you, asking if you remembered how much you bought that packet of organic oats at FairPrice. You quickly check your purchase history and reply with the price

You're at another supermarket chain trying to compare prices against the usual stuff you buy from FairPrice

When did you last visit the FairPrice outlet? It's easy to check your purchase history for the date of your previous transaction

You're out shopping and you can't remember if you bought shampoo on your last grocery run — but you can check your purchase history
In addition, everything in your purchase history is itemised for quick and easy reference.
4. Savings at a glance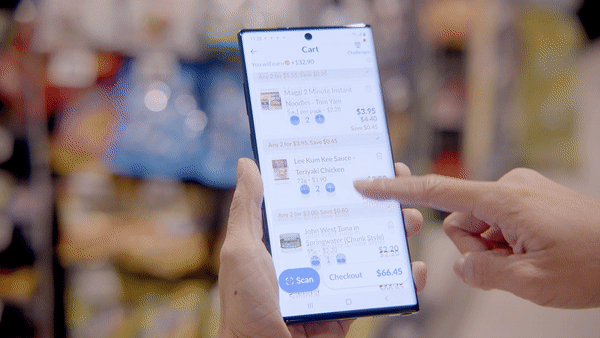 In addition to purchase history, the FairPrice app's Scan & Go feature also allows you to view your spending and savings in your current purchase — you don't even need to be a mental calculation math whizz to know if you've exceeded your grocery budget and how much savings you've scored.
For thrifty stay-home parents who may be working freelance while juggling daily meal prep for their kids, this feature helps them eyeball savings and stick to their monthly grocery budget on each grocery run.
Tip: You'd be surprised how much random items like ice cream and snacks can add up to! Especially when you shop on an empty stomach, you might not make the best purchasing decisions (everything also want to buy, because hungry).
5. Instantly check in-store promos and deals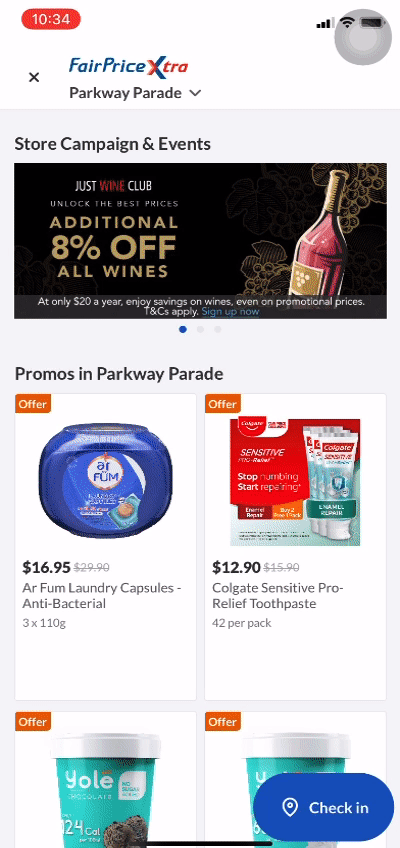 Everytime you use Scan & Go, you'll need to check-in to the FairPrice supermarket you're at before you start using it. This is perfect, because the Scan & Go landing page immediately shows you all the items that are on offer at the particular store you're at.
This saves time, as you can quickly zoom in on the deals and fill up your shopping cart in store (while scanning on the go). The Scan & Go homepage displays the offer items prominently and neatly, just like browsing an online store.
For smart shoppers who use Scan & Go, no in-store deal or promotion will evade their watchful gaze. How's that for stress-free shopping?
Tip: As you're walking from your home to the FairPrice outlet, you can even start browsing the store offers even before you check-in! This way, you can plan your shopping strategy the moment you enter the supermarket.
Bonus: Earn additional LinkPoints with Scan & Go
From now till 16 May 2021, you can earn up to 3,000 bonus LinkPoints when you use Scan & Go. Click on Challenges on the top right-hand corner of the screen inside the Scan & Go supermarket check-in page. Remember to connect your Plus! account so the LinkPoints will be credited as you Scan & Go.

Level Up Your Rewards Challenge
Earn bonus LinkPoints with Scan & Go (till 16 May 2021) — reward tiers

1

Make a purchase of min. $20

+100 LinkPoints

2

Make next purchase of min. $20

+200 LinkPoints

3

Make next purchase of min. $20

+300 LinkPoints

4

Make next purchase of min. $30

+400 LinkPoints

5

Make next purchase of min. $30

+450 LinkPoints

6

Make next purchase of min. $40

+550 LinkPoints

7

Make next purchase of min. $50

+1000 LinkPoints
TL;DR: Just go to the nearest FairPrice Scan & Go outlet and spend at least $20 to $50 a day, for 7 days (doesn't need to be consecutive) to earn the maximum of 3,000 bonus LinkPoints. However, you cannot get 2 bonus rewards on the same day.
Are you ready to shop easy, shop smart with Scan & Go? Download the FairPrice app and visit a Scan & Go outlet to get started.
FairPrice Promo Codes for MoneySmart Readers:
New customers: Use "SG3WELCOME" to get $3 OFF your first Scan & Go purchase

Existing customers: Use "SG3MSHELLO" to get $3 OFF your Scan & Go purchase
Offers applicable for minimum $30 spend and valid until 16 May 2021
Do also keep your eyes peeled for more features rolling out in the upcoming months that can help you save even more time and money.
Find out more about Scan & Go as well as the ongoing campaigns here.