DBS Altitude Visa Signature Card – MoneySmart Review 2018
Air miles credit cards always sound awesome when you read about them online. Just as you're all starry-eyed from reading about free airport lounge access and limousine transfers and calculating all those bonus miles you can get… you finally get to the bottom of the page and realise there's a minimum income of $150,000 plus annual fee of $600. Thanks ah.
The DBS Altitude credit card, however, is one air miles card that's within the reach of young working adults who aren't commanding $12K a month salaries. Let's see if it's any good.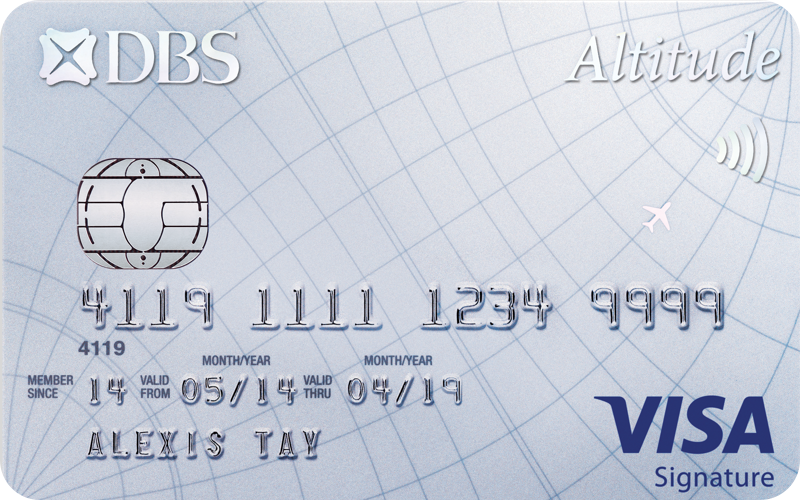 DBS Altitude Visa Signature Card
---
Card Benefits
S$1 = 1.2 miles (Local spend)
S$1 = 2 miles (Overseas spend)
S$1 = 3 miles (Online flight & Hotel transactions)
6 miles/S$1 spend at Expedia; 10 miles/S$1 spend at Kaligo
Get 10,000 Bonus Miles when you renew your annual membership
Enjoy 2 Complimentary Global Airport Lounge Access visits and get up to S$1 million travel accident insurance coverage for you and your family members
Pros and cons of the DBS Altitude Visa Signature Card
Pros
Cons

Excellent earn rates for selected online travel bookings: 10 miles per dollar spent on Kaligo and 6 miles per dollar on Expedia.

Expedia promotion expires 31 Mar 2018. Kaligo promotion ends 31 Dec 2018. Bonus points are awarded quarterly and 60 days after the end of the quarter.

3 miles for every dollar spent on all other online flight and accommodation bookings.

Expenditure cap of $5,000.

2 miles for every dollar spent overseas.

Miles conversion rate is not great.

1.2 miles for every dollar spent locally.

Miles conversion rate is not great.

Renewal bonus of 10,000 miles.

Have to pay annual fee of $192.60.

DBS Points earned with DBS Altitude never expire and can be converted to KrisFlyer and Asia Miles.

Each conversion costs $25.

Comes with Priority Pass membership which gives you 2 x airport lounge access per year.

24-hour travel butler service to help with travel arrangements.

Complimentary travel insurance of up to $1,000,000 when you charge travel fare to the card.

Entry-level minimum income requirement of $30,000 a year.

Annual fee waived for one year.

Annual fee of

$192.60.
An air miles credit card for fresh grads
If you graduated from poly or uni not too long ago and have only just started working, your pay of <$50,000 p.a. disqualifies from the majority of air miles cards in Singapore. Which is sad because the whole reason you even go to work is so you can travel.
The DBS Altitude is one of the two credit cards with an entry-level income requirement and annual fee waiver. The other is the Amex KrisFlyer, which I'll touch on in the next section.
It doesn't give you very good earn rates on your everyday expenses, but when it comes to travel bookings, it has some of the best bonus miles on the market. Get the most miles if you book flights and hotels on Kaligo and Expedia. If you can't find something within your budget on those sites, you can still get 3 miles per dollar on any other online booking.
It also has a few travel perks, which is nice for an entry-level credit card.
DBS Altitude vs. entry-level air miles credit cards
The DBS Altitude card isn't the only credit card for beginner air miles collectors. There are a couple of other notable mentions that we should cover as well:
American Express KrisFlyer Credit Card – Another entry-level credit card, but with poorer earn rates at 1.1 miles (local) and 2 miles (overseas in Jun & Dec) per dollar spent. But it has a good welcome bonus: 17,250 miles if you spend $2,500 in the first 3 months. And it's terribly convenient. Miles are credited straight into your KrisFlyer account with no conversion fee.
UOB PRVI Miles Card – If you qualify for the $50,000 p.a. income bracket, the UOB PRVI Miles Card has much better earn rates than the DBS Altitude, at $1 = 1.4 miles (local) and 2.4 miles (overseas), and it even has a similar travel booking promotion with $1 = 6 miles (Agoda, Expedia, UOB Travel).
In conclusion, sign up for the Amex KrisFlyer only if you plan to spend $2,500 in 3 months. Otherwise, stick to the DBS Altitude credit card until you earn enough to upgrade to the UOB PRVI Miles Card.
DBS Altitude Visa Signature Card minimum income
Singaporeans & PRs: $30,000
Foreigners: $45,000
DBS Altitude Visa Signature Card annual fee
$192.60 (waived for first year)
Related articles:
Best POSB / DBS Credit Cards in Singapore – Credit Card Reviews 2018
The Best Air Miles Credit Cards in Singapore 2018
Cashback vs Air Miles vs Rewards – Which credit card is best for you?
Keep updated with all the news!
Get the latest personal finance tips and tricks delivered to your inbox!
We promise never to spam you!
Tags: Credit Cards, Travel