The Best Credit Cards in Singapore for Airport Lounge Access (2018)
Imagine this: you're about to take a 17 hour flight across the world, and you're too cheap to splurge on anything more than an economy class seat. Not to fret, there's still a way to experience a life of luxury before the flight – airport lounges.
Almost every bank in Singapore offers at least one credit card with airport lounge access perks, so you can kick back, relax and rest up for your epic holiday. Think cushy seats, free food, free booze, fast Wi-Fi and even shower facilities.
Believe it or not, regular plebs like us can get access to these havens. All you need is the right credit card with airport lounge access benefits.
Best credit cards for airport lounge access 2018
Here are the best credit cards in Singapore that can get you free airport lounge access around the world. However, it's a diverse bunch and each card is slightly different in its terms and benefits which I'll talk about later.
Credit card

Airport lounge benefits

UOB JCB Card

Unlimited access to 53 airport lounges in Japan, China, Hawaii




2 free visits to lounges in HK, Korea, Thailand

DBS Altitude Card

2 free visits to Priority Pass lounges

Citibank PremierMiles Card

2 free visits to Priority Pass lounges

Amex KrisFlyer Ascend

4 free visits to SATS Premier lounges in Singapore + Plaza Premium lounges worldwide

BOC Elite Miles Card

4 free airport lounge access to Plaza Premium Lounges

ICBC UnionPay Card / ICBC Global Travel Mastercard

Free access to participating ICBC airport lounges in Mainland China

UOB PRVI Miles Mastercard

2 free uses of JetQuay's Quayside service in Singapore for yourself + 1 guest

Maybank Horizon Card

1 visit to Ambassador Transit Lounge in Singapore + Plaza Premium lounges in Singapore, KL, HK (min. $1,000 travel spend)
Are you a miles chaser? Meet MoneySmart's new miles redemption calculator and see where you can fly for free.
UOB JCB Card
With Japan as one of Singapore's top travel destinations of all time, we're kick-starting this list with the UOB JCB Card, which is especially useful for those who love visiting the country.
Cardholders are entitled to UNLIMITED free entry into airport lounges in 28 Japanese airports including Narita International Airport, Haneda Airport and Kansai International Airport. Airport lounge access is also free and unlimited in China and Hawaii. But it's limited to 2 free visits for lounges in Hong Kong, Kuala Lumpur and Thailand.
Do note, however, that although the global JCB website states that there are 2 visits into the lounges in Singapore Changi Airport, it is not applicable to JCB cards issued in Singapore.
As JCB is widely accepted in Japan, it's a useful all-round travel card to use if you like to travel there. You can also get free Wi-Fi when you travel and discounts on Japan travel passes and attractions. Plus in Singapore, there's up to 6% cashback on Japanese merchants like Ichiban Boshi, Tokyu Hands, Uniqlo and Isetan.
For an entry-level credit card with such a low annual fee – and there's even a first-year fee waiver – the UOB JCB Card airport lounge perks are really generous. Just be aware that it only covers a handful of countries.
Click through to apply for the UOB JCB Card.
DBS Altitude Visa Signature Card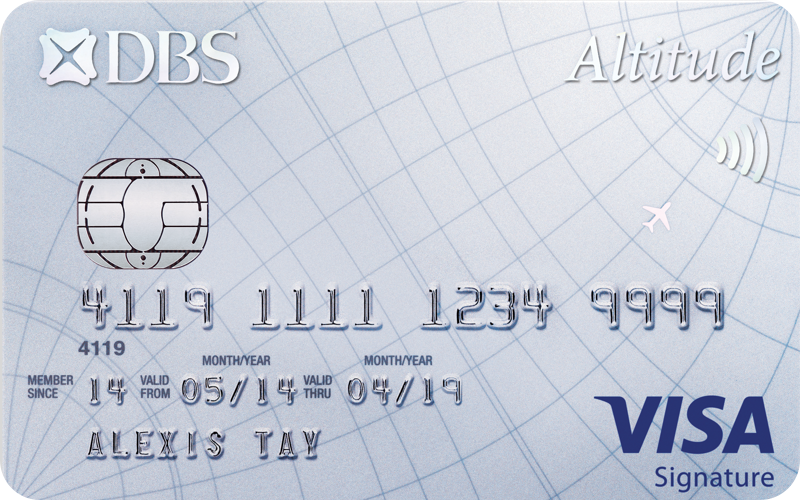 DBS Altitude Visa Signature Card
---
Card Benefits
S$1 = 1.2 miles (Local spend)
S$1 = 2 miles (Overseas spend)
S$1 = 3 miles (Online flight & Hotel transactions)
6 miles/S$1 spend at Expedia; 10 miles/S$1 spend at Kaligo
Get 10,000 Bonus Miles when you renew your annual membership
Enjoy 2 Complimentary Global Airport Lounge Access visits and get up to S$1 million travel accident insurance coverage for you and your family members
Since the UOB JCB Card doesn't cover too many countries, you can supplement it with the DBS Altitude which is also an entry-level credit card with a first-year fee waiver.
The DBS Altitude card gets you free membership (worth US$99) to the Priority Pass programme. You get 2 complimentary passes for use during the 12-month membership period. Do note that you will need to apply for the Priority Pass membership online, and it will take around 2 to 3 weeks to process. So if you're planning to use this perk, make sure you plan for it early.
Priority Pass is a huge global lounge programme with 1,000 lounges in hundreds of cities worldwide. The great thing about this is you can share your free passes with an accompanying guest if you want – so you and your travel buddy can both use the lounge together. Subsequent visits cost US$27 per entry.
Should you choose to keep this card after the first year, there's an annual fee of $192.10. If you pay the fee you can get a bonus of 10,000 miles.
Citi PremierMiles Visa Card
Citi PremierMiles Visa Card
---
Card Benefits
Get S$200 NTUC Fairprice OR Takashimaya OR CapitaLand Vouchers!
S$1 = 1.2 Citi Miles (Local spend)
S$1 = 2 Citi Miles (Overseas spend)
Earn up to 7 Citi Miles per S$1 spent on Agoda.com/bonusmiles and 3 Citi Miles per S$1 spent on expedia.com.sg/bonusrewards
Citi Miles never expire
Priority Pass™ membership gives you access to more than 600 airport lounges twice a year
Receive 10,000 Citi Miles upon membership renewal and payment of annual fee
Complimentary Travel Accident Insurance up to S$1,000,000 coverage, Medical Assistance Programme and Travel Inconvenience Coverage
Like the DBS Altitude Visa Signature Card, the Citi PremierMiles card also gets you a free Priority Pass membership along with 2 free passes. The same Priority Pass usage rules apply.
However, there's a higher minimum income requirement of $50,000, making this out of reach for most fresh grads. Also, the annual fee is not automatically waived but you can certainly try your luck with Citibank.
Lounge benefits aside, the Citibank PremierMiles card USED to be very popular with travellers for its super generous welcome bonus. Sadly, Citi is no longer running this promotion so you will have to contend yourself with somewhat average miles earn rates and a few other travel perks.
American Express KrisFlyer Ascend Card
American Express Singapore Airlines KrisFlyer Ascend Credit Card
---
Card Benefits
Apply through MoneySmart from 22 Mar - 19 Apr 2018 to get S$100 worth of Grab OR NTUC Vouchers. Application must be approved by 3 May 2018. Submit your (i)Contact Details and (ii)14-digit Reference Number on the Thank You Page upon completion at this link before 19 April 2018. T&Cs
1.2 KrisFlyer Miles = S$1
2 KrisFlyer Miles = S$1 in foreign currency spent overseas on eligible purchases in June & Dec
3.2 KrisFlyer Miles = S$1 for Grab and Uber rides, capped at S$200 per month
Spend above S$15,000 on eligible purchases on singaporeair.com within first 12 months of Card approval and get upgraded to KrisFlyer Elite Gold Membership
Four complimentary lounge access to participating SATS Premier and Plaza Premium Lounge each year
Complimentary night's stay each year at one of over 90 participating Millennium Hotels and Resorts properties worldwide
Up to $1 million travel insurance coverage
Another option for the $50,000 income bracket is Amex's flagship air miles credit card.
However, it isn't on the Priority Pass programme. Instead, Amex partners the very cushy SATS Premier Lounge at Changi Airport. Outside of Singapore, you also get access to Plaza Premium Lounges (smaller network than Priority Pass, found in fewer countries including China, India, Canada, Hong Kong and Malaysia).
You do get 4 free passes each year which is twice that of Citibank of DBS. However, note that you can only get the passes IF you pay the hefty annual fee of $337.05 on this credit card. Another downside is that you can't use them on your travel companion. Considering the limited number of lounges, it seems like an unbalanced trade-off.
While Amex KrisFlyer Ascend's travel perks and mile accrual rates don't top the list (there can only be one #1, right?) it does nonetheless offer an impressive welcome bonus if you're planning to spend $5,000 (26,000 miles) or $10,000 (38,000 miles) in the next 3 months.
BOC Elite Miles Card
Offering a similar benefit to the Amex KrisFlyer Ascend – but with an annual fee waiver (yay!) – is the newly launched BOC Elite Miles Card.
Card members get 4 free airport lounge access to Plaza Premium Lounges until 30 Jun 2019. The 4 visits can be used for your accompanying guests too.
Considering this credit card has some of the best promotional miles earn rates in town, it's a good idea to sign up for it if you're anticipating some large expenses in the coming year.
Read the full review of the BOC Elite Miles Card here.
ICBC UnionPay Dual Currency Platinum Card / ICBC Global Travel MasterCard
Those who frequently fly to Mainland China might already have one of these credit cards from ICBC.
But in case you don't, consider getting either of these cards to get free access to participating ICBC airport lounges in Mainland China. Both are entry-level cards with a minimum income of $30,000 and the annual fee is waived for 3 years. The list of participating lounges and T&Cs is in Chinese, though. Google Translate, anyone?
Maybank Horizon Visa Signature Card
Maybank Horizon Visa Signature Card
---
Card Benefits
Earn 3.2 air miles (8X TREATS Points) for every S$1 spent on dining, petrol, taxi fares and hotel bookings at Agoda.com/horizon
Earn 2 air miles (5X TREATS Points) for every S$1 spent on air tickets, travel packages and foreign currency transactions
Minimum spend: S$300/month
Capped at 30,000 Bonus TREATS Points per month
Earn 0.4 air miles (1X TREAT Point) with no minimum spend amount
Complimentary lounge access with minimum spend of S$400
Complimentary Travel Insurance up to S$1,000,000
If you've exhausted all the other options, you can turn to Maybank's air miles credit card. Unlike most of the other cards on this list, you CAN simply flash your credit card to get into the lounge (there are only a few participating lounges though, in Singapore, KL and Hong Kong).
The drawback is that it's capped at 1 free visit, AND you have to charge a minimum of $1,000 in a single travel (flights or travel package) transaction on the card in the past 3 months.
On the other hand, having this card is practically free as the annual fee is waived for 3 years(!).
UOB PRVI Miles Mastercard
---
Card Benefits
S$1 = 1.4 miles (Local spend); S$1 = 2.4 miles (Overseas spend)
S$1 = 6 miles for spends on major airlines and hotels booked through Expedia, UOB Travel, and Agoda
No minimum spend and no cap on earned miles
20,000 loyalty miles every year with min. spend of S$50,000 in a year; Up to 8 complimentary airport transfers to Changi Airport in a year (Exclusively for UOB PRVI Miles American Express Card)
Complimentary travel insurance coverage of up to S$1,000,000. T&Cs apply.
Although airport lounge access is of the most practical benefit when you're stuck in transit overseas, if you're in it for the VIP feels then you might want to consider the UOB PRVI Miles Mastercard. Instead of standard lounge access programmes, UOB works with JetQuay, a company that runs the standalone premium VIP terminal at Changi Airport.
You can redeem their Quayside service (for yourself + 1 guest, a maximum of 2 times in total) either on the way to or when heading back from Changi Airport. What to expect: An immaculately groomed creature will descend from the heavens to escort you and your companion to JetQuay's CIP terminal, and proceed to take care of plebeian matters like check-in and immigration while you and your buddy relax and make use of VIP lounge facilities. Pretty sweet, right?
Note that the free service is limited to the first 100 redemptions a month. But if you like this sort of thing, why not give it a shot while the promotion lasts – after all, the UOB PRVI Miles card has a first year annual fee waiver.
Can I just flash my credit card to get lounge access?
No. Unless you have the Maybank Horizon card, please don't make the mistake of whipping out your credit card – you'll just get laughed out of the lounge.
So how does it work? Credit cards partner with airport lounge access programmes, each of which has its own chain of participating lounges across the globe. The most popular ones are Priority Pass, Plaza Premium, and Dragon Pass. Priority Pass is by far the most prolific chain, with over 1,000 lounges worldwide. Dragon Pass has 900+ lounges, while Plaza Premium has about 80.
In order to get in, you usually have to sign up for membership after you get the card (though some banks will apply for you). Membership is usually on an annual basis. Note that it might take a few weeks to process your membership so don't register the night before you fly off!
Have you been to any of the airport lounges mentioned in this article? Give us your feedback!
Related articles
The Best Air Miles Credit Cards in Singapore 2018
Earn KrisFlyer Miles Fast – 6 Best Credit Cards Promotions in Singapore
How Many KrisFlyer Miles Does it Take to Fly Free to London, Paris, Tokyo and New York?
Keep updated with all the news!
Get the latest personal finance tips and tricks delivered to your inbox!
We promise never to spam you!
Tags: Credit Cards, NLW1731P03, Travel