4 Ways to Use Credit Cards to Win at Life
There's nothing quite like getting your credit card statement and realising you got $50 free thanks to your card's generous cashback policy. #Winning
If you're smart and disciplined enough to pay your credit card bills on time and in full every month, and always call to get the annual fee waived, they can be deployed as tools to help save you lots of sweet, sweet money.
Here are four ways to use these little pieces of plastic to your advantage.
1. Sign up for cards whenever you see sweet sign-up bonuses
Banks really, really want you to sign up for their cards. Okay, they're hoping that somewhere down the road you'll start missing your credit card payments so they get to charge you interest and late payment fees, but you're not going to let that happen.
Still, nothing's stopping you from taking advantage of juicy sign-up bonuses banks dangle to entice you to register for their cards. Every once in a while, look through the websites of all the major banks to see if there are any good sign up bonuses on offer.
For instance, Citibank is offering a generous sign-up bonus of $120 to new cardmembers who don't have another Citibank credit card and sign up for the Citi Cash Back card.
---
Card Benefits
8% cash back at food & beverage outlets, food & groceries delivery (including Deliveroo, honestbee, RedMart)
Up to 20.88% savings at Esso and Shell, and 8% cash back at other petrol stations
Total min. retail spend of S$888/month, 8% cash back capped at S$25 per category (Dining, Grab, Groceries and Petrol)
For retail spend less than S$888 and/or other retail spend categories, 0.25% cash back is awarded, no cap on 0.25% cash back earned
2. Sign up for the right card before making a big purchase
When you have a big purchase looming on the horizon—a long-awaited overseas holiday, booking a hotel for your wedding dinner, buying an engagement ring, going for LASIK surgery and so on—look out for a card that can really maximise your spending.
For instance, you might want to sign up for the American Express Singapore Airlines KrisFlyer Ascend Credit Card, which offers up to 20,000 KrisFlyer Miles if you spend $6,000 on the card in the first 3 months. And if you're spending an additional $4,000 in that same time period, you may be eligible for a Samsonite luggage.
American Express Singapore Airlines KrisFlyer Ascend Credit Card
---
Card Benefits
Apply through MoneySmart from 22 Mar - 19 Apr 2018 to get S$100 worth of Grab OR NTUC Vouchers. Application must be approved by 3 May 2018. Submit your (i)Contact Details and (ii)14-digit Reference Number on the Thank You Page upon completion at this link before 19 April 2018. T&Cs
1.2 KrisFlyer Miles = S$1
2 KrisFlyer Miles = S$1 in foreign currency spent overseas on eligible purchases in June & Dec
3.2 KrisFlyer Miles = S$1 for Grab and Uber rides, capped at S$200 per month
Spend above S$15,000 on eligible purchases on singaporeair.com within first 12 months of Card approval and get upgraded to KrisFlyer Elite Gold Membership
Four complimentary lounge access to participating SATS Premier and Plaza Premium Lounge each year
Complimentary night's stay each year at one of over 90 participating Millennium Hotels and Resorts properties worldwide
Up to $1 million travel insurance coverage
3. Find a card for every spending category
There is no reason to pay cash unless you can help it. Find a card for every spending category so you can maximise the amount of benefits you enjoy.
For instance, look for a card that gives you a generous cash rebate on online shopping, and use that whenever you make purchases on the Internet. The HSBC Revolution Card, which gives you 5X Rewards points for all online purchases. What's more, it also gives you 5X Rewards points for dining and entertainment. So bring it along for your next KTV session.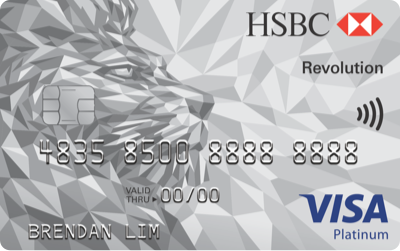 HSBC Revolution Credit Card
---
Card Benefits
5X Rewards points (or 2 air miles) per $1 spent on Online, Dining and Entertainment transactions
$1 = 1 Reward point for all other spend
No minimum spend and earn as many Rewards points as you like
Note that the minimum spending requirements will often dictate which cards you use. You'll have to come up with a card allocation plan that maximises your rewards while working within the limits of your monthly spending.
4. Keep track of the various credit card benefits
Let's be honest here. You practically need a PhD to keep track of the various credit card benefits, as they're changing all the time.
One day you've signed up for a card that promises to give you a great cashback rate on everything you could possibly spend on. Six months later, the bank has changed the entire programme and slapped on a $1,000 minimum spending requirement. Now, the only thing the card is good for is as a coaster.
To ensure you never get left hanging at the cashier counter again, fumbling through your wallet and wondering which card you should use, you can head to the MoneySmart Credit Cards wizard for easy reference. Make sure you maximise your benefits each and every time.
What's your favourite credit card? Share your recommendations in the comments!
Tags: Credit Cards