Sheng Siong Supermarket Singapore – Prices, Delivery, Outlets & More
I used to hate Sheng Siong supermarkets – the fresh food section always had wet floors and smelled of muddy, unwashed veggies. Like many millennials, I was #TeamNTUCFairprice for the longest time.
But then, I started working near a Sheng Siong outlet and it was almost as if I had made up all of that inside my head. I'm not sure if Sheng Siong recently renovated their stores or if I was just a judgemental goondu, but I have since visited a ton of Sheng Siong stores, and in addition to being super cheap, they were all delightfully pleasant (read: clean and dry).
Here's a guide to Sheng Siong supermarkets, one of Singapore's favourite budget grocery chains.
Sheng Siong – known for being a "budget supermarket"
As you can tell from the brands they carry and the general vibe of the store, it's obvious that Sheng Siong is a cheapo heaven. In fact, my husband used to assume that "Sheng Siong" meant "save until very fierce (省得很凶)", which although sounds very silly, is actually quite smart.
But you get the idea. As mentioned in another article comparing Sheng Siong with NTUC Fairprice, the more common brands are priced about the same as other supermarkets.
It's not Valu$ or ABC, so don't expect parallel imports and B-stock to be going at 50% off. Instead, Sheng Siong's main selling point is that they carry more affordable brands, a lot of which NTUC Fairprice and Cold Storage don't carry.
For example, I am in love with Coffee Hock's range of teas (the 2-in-1 Teh-O is only $1.20 for a pack 10 bags) but I can only find it at Sheng Siong (and RedMart).
Sheng Siong outlets
There are 55 Sheng Siong outlets islandwide, 39 of which are open 24 hours a day. For the exact opening hours of each store, please refer to the official Sheng Siong website.
Sheng Siong online (AllForYou.sg) vs Sheng Siong stores – which is cheaper?
For some strange reason, Sheng Siong's e-supermarket is called All For You. Unlike selected NTUC Fairprice stores* that offer home delivery services for shoppers at their brick-and-mortar stores, you'll have to shop online at AllForYou.sg if you want your groceries sent to your home. That means a much more limited range of products. Also, you won't be able to hand-pick your meats and fresh produce.
Delivery fees are $6, but it's waived if you spend above $100.
I went to Sheng Siong Tanglin Halt (at Commonwealth MRT) and compared their prices with the online store. Generally, they both had different promotions. Nothing surprising there; store-specific sales are common because of the need to clear slow-moving stocks.
There were some overlaps though, and for those, I found that it's either the same price or slightly more expensive in-store. And when I say slightly, I really mean just a wee bit. The prices mostly only differed by a few cents.
Here's a look at some of the promo items:
Shokubutsu body wash (same price: $9.50 or $11.75 for 2)
For instance, the Shokubutsu body wash promo was the same on- and offline.
Fresh silver pomfret fish (cheaper online: $6.35 for 2)
The fresh fish was slightly cheaper online ($6.35 vs $6.50 for 2) – negligible difference to me.
Asahi Super Dry beer (cheaper online: $17.90)
This was perhaps the biggest price difference I could find. The beer was $2 more expensive in-store.
Considering the $6 delivery fee for online orders, I'd still pick the physical store over AllForYou.sg. It's only worth it if you can chalk up $100 worth of orders and get the delivery fee waived.
Additionally, I actually enjoy the offline shopping experience. Not only are there more groceries to choose from, they sometimes carry seasonal stuff as well. When I was there, there was a Ramadan shelf, as well as a dumpling stand with Nyonya bazhang ($1.20 to $3.95 each) for the upcoming Dragon Boat Festival. Not to mention, the fresh flowers ($3.30 to $4.50)!
I also saw a very cool "STM", which I presume stands for "Sheng Siong Teller Machine". Apparently you can withdraw up to $1,000 cash from your DBS/POSB, OCBC or UOB cards – no purchase required. So basically it's a multi-bank ATM.
Best credit cards for grocery shopping at Sheng Siong
Obviously, the best credit card for grocery shopping at Sheng Siong is the Bank of China Sheng Siong card (duh!). There is no minimum spend, and earns you at least 7% cashback at Sheng Siong. If you use the card outside of Sheng Siong and manage to spend an additional $400, your cash rebate gets bumped up to 12%, which is a nice bonus, but not something necessarily worth spending for.
Alternatively, you can consider the POSB Everyday Card, which offers 5% cash back (no minimum spend). Or else, there are other general spending cards like the Citi Cash Back Card or DBS Live Fresh Card that give you bonus earnings for grocery shopping.
---
Card Benefits
Up to 20.1% cash rebate at SPC
5% cash rebate at Sheng Siong. S$50 cash rebate cap per calendar month.
3% cash rebate at Watsons, and local medical spend (dental, clinic, hospital)
1% cash rebate on recurring utilities bills from SP Group and recurring StarHub mobile/digital cable/broadband bills and ins-tore purchases
Get 0.3% on everything else
No minimum spend required
---
Card Benefits
Chinese New Year Giveaway - Win up to S$300 NTUC FairPrice Vouchers!
8% cash back at food & beverage outlets, food & groceries delivery (including Deliveroo, honestbee, RedMart)
Up to 20.88% savings at Esso and Shell, and 8% cash back at other petrol stations
Total min. retail spend of S$888/month, 8% cash back capped at S$25 per category (Dining, Grab, Groceries and Petrol)
For retail spend less than S$888 and/or other retail spend categories, 0.25% cash back is awarded, no cap on 0.25% cash back earned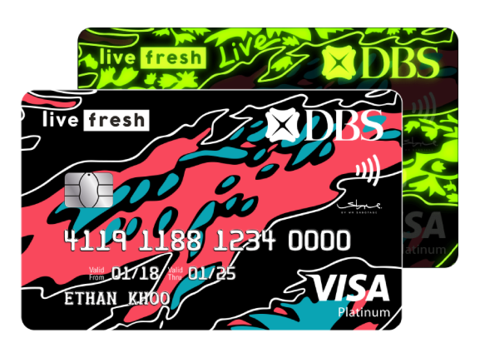 ---
Card Benefits
5% cashback on online shopping and when you pay using Visa payWave, Apple Pay, Samsung Pay or Android Pay through your Card
Additional 5% cashback for the first 6 months with S$600/month min. spend when signing up within 8 Jan - 31 Mar 2018, Cashback cap at S$60/month
Lazada: 20% off storewide for new shoppers with 'DBS2017'; Valid till 31 Dec 2018
Expedia: 20% off eligible hotel bookings with 'DBS10EXP' at checkout; Valid till 31 Jan 2019, and travel till 30 Apr 2019
Base rate: 0.3% on all other spend
What do you think of Sheng Siong supermarket? Tell us in the comments below! 
Related articles
Best Grocery Credit Cards for NTUC FairPrice, Sheng Siong, Cold Storage & Giant 
Sheng Siong Online vs NTUC Fairprice Online – Prices, Delivery Fees and Products
BOC Sheng Siong Card Review: Up to 12% Cashback at Sheng Siong
Online Grocery Singapore – Should You Buy From RedMart, Honestbee or NTUC FairPrice Online?
RedMart on Lazada: One Month On, Was It the Right Move to Merge RedMart with Lazada?
*All NTUC Fairprice Finest stores (exclude CIA 3) and NTUC Fairprice Tiong Bahru Plaza, Orchard Grand Court, Tampines Mall, PSA and Square 2 offer home delivery. NTUC Xtra stores only offer delivery service for electronic items.